Jowls and How to Minimize Them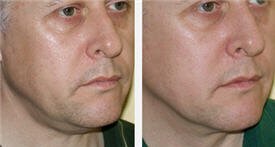 Jowls – even the sound of the word is enough to throw most of us into a panic.
The lower face "gives away" age like nothing else. Losing that crisp jawline seems to visually throw everything off.
What's a girl (or guy) to do? New Beauty blogs about jowls and lists two of the the ways we help our own patients who are seriously unhappy with jowls. (We have a couple of other ways to tackle the jowl problem)
Radio Frequency Skin Tightening
Thermage relies on the body's response to heat generated deep in the subdermal layers. First, old saggy collagen fibers scrunch up – then long term response over 4 to 6 months forces new collagen production that's more tightly spiraled, thus helping firm up the treated area.  Typically patients notice a sharper jawline and a tighter upper neck and reduced jowling – all without surgery (though not at the same levels achieved with surgical skin excision and muscle sutures). Results do vary and some patients will see better results than others.
If you set your expectations at a realistic level, you'll most likely be happy with Thermage. BUT, a word to the aging.  The older we get, the less responsive our own collagen production becomes. For that reason – and because we continue to age – those approaching and over 50 may get better results with the cumulative effects of more than one procedure.
Fillers to Fill & Lift
Fillers can be used not only in the cheeks to help refill the deflating facial balloon but also just foward of the jowl area to redefine the contour line. Sculptra is an excellent injectable product which actually stimulates new collagen, so you can achieve some excellent results that are borne of your own collagen. Not instant like a gel or Radiesse, but the effects last longer and are actually "you"!
Tightening with Fraxel RePair Laser
Not for the faint hearted, CO2 laser does what no other laser can – and that is actually reduce the amount of skin surface. Fraxel CO2 RePair laser ablates tissue – meaning that tiny columns of skin are vaporized. This reduces the volume of skin in one procedure. The vaporization and the heat response offer a double duty effect by shrinking total skin area and by spurring new tighter collagen.
Neck Tightening with eMatrix
eMatrix is a gentler option and more suitable than CO2 laser for skins that tend to pigment – requiring a series of treatments. More conducive to neck tightening, eMatrix uses radio frequency to resurface the skin – the same heat response works for new collagen build, but you also get the skin smoothing effects of resurfacing without the risk that comes with laser.
Jowl Surgery
Obviously, if you have substantial laxity, nothing short of surgery will give you that defined jawline. But for many, and certainly for those who are surgery-averse, other options are well worth considering.
If you would like to learn more about the non-surgical treatment options for jowls and skin tightening, please call our office at  (949) 727-3800 today to schedule a consultation or fill out the form on this page and one of our trusted staff members will reach out to you promptly.