TAKE THE WORRY OUT OF THE PEEL PROCESS
All types of melasma and pigmentation
Fast results in as little as two weeks
Compatible with light and dark skin types (Fitzpatrick I – VI)
Treatment can begin and be used all year round
Very effective for acne patients
Includes retinoic acid for cell turnover and renewal
High safety margin
ACTIVE INGREDIENTS – COSMELAN® PACK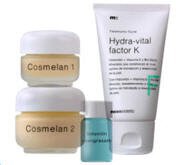 Degreasing Solution
Aqua, Acetone
Cosmelan 1 – Cream (10g)
Retinoic Acid, Azelaic Acid, Kojic Acid, Phytic Acid, Ascorbic Acid, Arbutine, Licorice Extract, Salicylic Acid, Retinol Palmitate, Ascorbic Acid, Tocopherol, Bisabolol, Allantoin, Nicotonomide, Alo Babadensis, Titanium Dioxide
Cosmelan 2 – Maintenance Cream (30g)
Titanium Dioxide, Kojic Acid, Phytic Acid, Ascorbic Acid
Mesoestetic® Hydra Vital Factor K Cream (50ml)
Hydro nutritional cream for face and neck. Hydroviton, Vitamin K, Vitamin E, Amniotic fluid, Glycerine, Silicone oil.
PRELIMINARY INFORMATION YOU NEED TO KNOW
Important: If you have undergone any previous treatments, especially with glycolic acid, these treatments must be completely stopped at least one week prior to using Cosmelan Depigmentation treatment. The Cosmelan Depigmentation treatment is only administered in a medical office and support products must be continued at home, on a daily basis, according to the guidelines indicated. The treatment must not be interrupted under any circumstances, during the whole time prescribed. As melanin production is being suppressed, failure to maintain proper use of sunscreen and your support products may allow reactivation of pigment production cycles. Cosmelan Depigmentation is NOT TO BE COMBINED with any other depigmentation treatments. No treatment guarantees complete removal of undesirable pigmentation. Please know we will do the best possible on your behalf but do set your expectations realistically. Follow up visits are recommended 15 days after the beginning of treatment, and 30 days after, and a follow-up treatment every month thereafter.