TYPES OF SKIN CANCER
There are three different types of skin cancer that most patients present: basal cell carcinoma, squamous cell carcinoma and malignant melanoma. Basal cell is by far the most common type of skin cancer and accounts for more than 90% of the diagnosed skin cancers in the United States. Thankfully, it is the also the least serious form of skin cancer, thanks in part to the fact that very rarely spreads from one area of the body to another. Squamous cell carcinoma is less common and can be considerably more serious, as this form of cancer spreads to a patient's vital organs in approximately 3 to 5 out of every 100 patients. Malignant melanoma is relatively rare but can often be quite serious and quickly spread to a patient's lymph nodes or internal organs.
DEMOGRAPHICS OF SKIN CANCER PATIENTS
According to the United States Center for Disease Control, skin cancer is the most common form of cancer in the United States, accounting for over one million diagnoses per year. While only around 4 percent of all skin cancers are melanoma, melanoma is the cause of over three quarters of all skin cancer related deaths. The Center for Disease Control estimates that anywhere from 65-90% of all cases of melanoma are caused by overexposure to ultraviolet light. In 2006, nearly 54,000 patients were diagnosed with melanoma, consisting of 50,500 Caucasians, 1000 Hispanics, 311 African Americans, 170 Asians and 90 American Indians.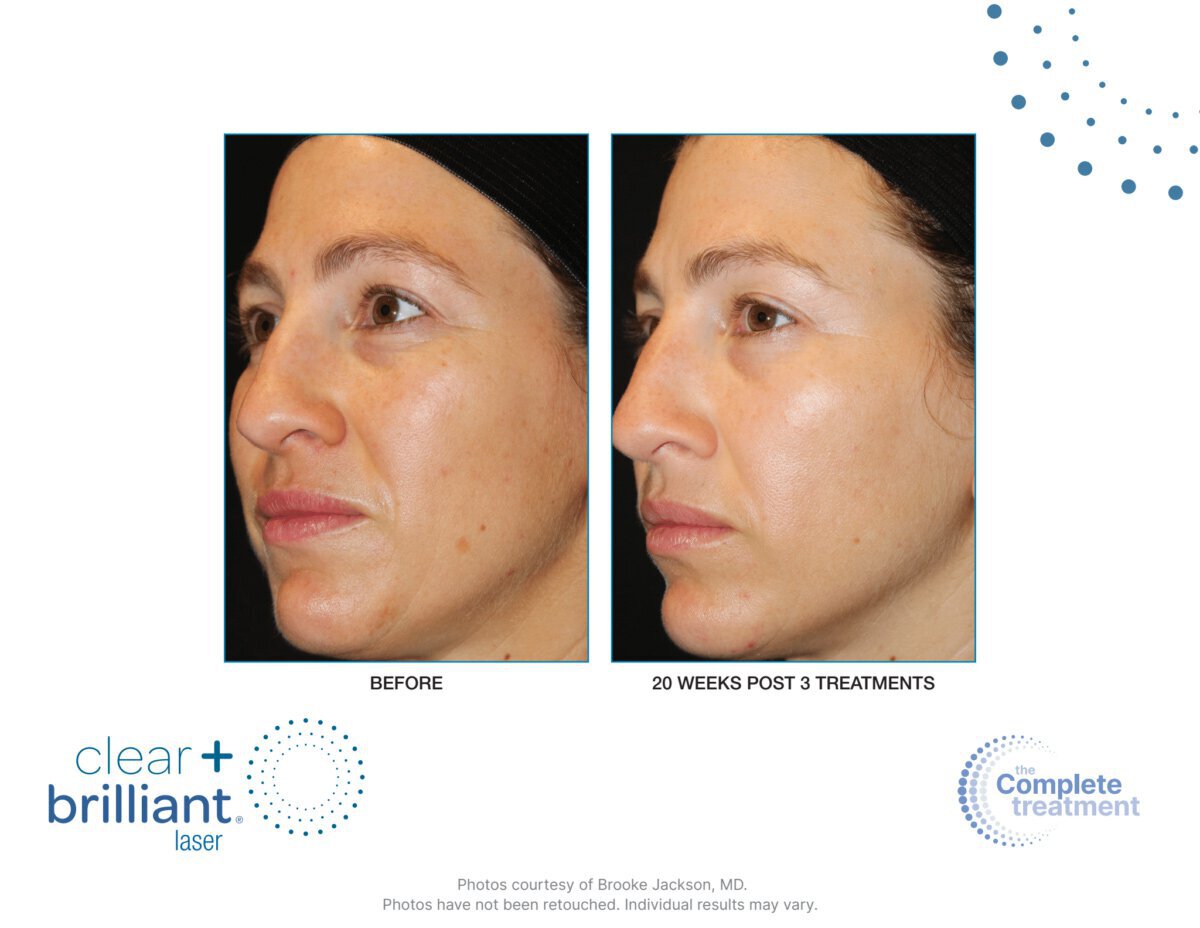 Clear + Brilliant® Touch Patient
*individual results may vary
SKIN CANCER TREATMENT OPTIONS
There are a wide variety of treatment options available depending on the type of skin cancer that a patient has developed and the extent to which it has spread. At Total Dermatology we strive to deliver the best skin cancer treatments Irvine has to offer. Treatment options are also influenced by a patient's gender, general health, personal preference and the outlook for the disease. The primary skin cancer treatment options for superficial basal and squamous cell cancers are chemotherapy/electrochemotherapy, photodynamic therapy and immunotherapy. Surgery is the most common treatment route and is used in 90% of all skin cancer cases, particularly cryosurgery (freezing), laser therapy, Mohs micrographic surgery and simple excision. Radiation therapy involves the use of radiation to shrink tumors and kill cancer skills. Chemotherapy uses drugs to kill cancer cells and is sometimes used in conjunction with electrical pulses. Photodynamic therapy involves the use of certain types of light and chemicals to kill cancer cells. Finally, immunotherapy boosts the patient's immune system in the hope that the body's natural defenses will hinder the growth of the cancer.
SKIN CANCER PREVENTION
There are many small changes that everyone, and especially those of us in Southern California, can make to minimize the chances of developing skin cancer. The most important skin cancer prevention method to put into practice is to keep one's body as protected from prolonged skin exposure as possible. Individuals who spend a great deal of time outdoors due to their profession or recreational interests are advised to dress appropriately and use plenty of suntan lotion, particularly on the face, head, neck and arms. The use of solar tanning beds increases one's likelihood of developing skin cancer, so we recommend that these services be avoided.