Congratulations Top Docs 2014
Each year Orange County doctors are chosen by the OC Medical Association as the "Top Docs" for the year. I want to congratulate my colleagues who have been chosen. Many I know personally and I admire their dedication to their professions.
We all strive to be our best in  rapidly changing fields and there are those who stand out for their outstanding contribution.
My personal congratulations go to my dermatology and other medical colleagues who provide such excellent care for their patients. The 2014 Dermatology list.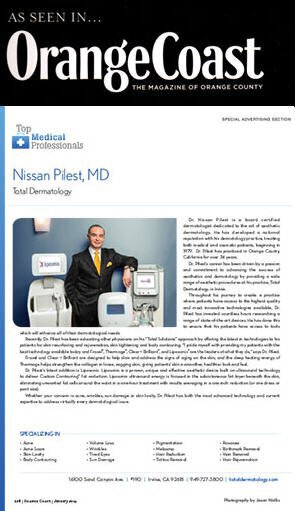 My own endeavors include teaching at UCI – which I look forward to every week. The young residents of today will be the leaders tomorrow and being in a position to enhance their educational foundation is a great source of personal satisfaction.
At  Total Dermatology, much of our focus has been centered on the benefits of cosmetic procedures. Self esteem is based on a mix of internal and external factors and we see daily the impact  that "looking better" has on our patients both from an appearance standpoint and their internal sense of self confidence.
From Melasma to wrinkles to frowns to birthmarks to regrettable tattoos, today's technological remedies are nothing short of amazing and we routinely see major improvements within days of skin conditions that 20 years ago were deemed impossible to change at all outside of surgery.
We have instant volume products that literally "turn back years" in minutes, fat obliterating technology that does what diets and exercise can't, lasers that manage acne and lasers that make decades of sun damage disappear. In a culture that very nearly worships a youthful appearance, we now have the tools to keep people looking younger longer and reverse the signs of aging that have already settled in. It's pretty spectacular in its comprehensiveness.
My roles as a teacher of the medical premises and a provider of both medical and aesthetic care consistently remind me that although we have come farther than our dreams when we began, there are even more magical options on the horizon.