Let's face it: Everyone is after the kind of pout that will make Kylie Jenner jealous.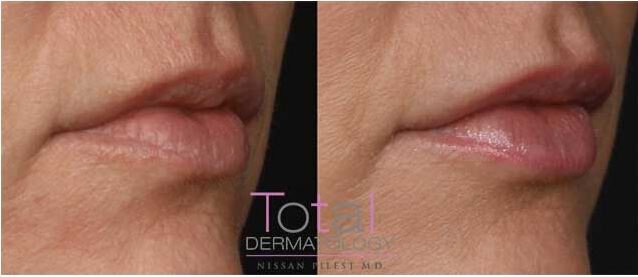 *Individuals Results May Vary.
How Does Non-Surgical Lip Augmentation Work?
Non-surgical lip augmentation refers to the process of plumping lips via dermal fillers. These fillers typically contain a thin form of hyaluronic acid gel, which works to add lip volume without sacrificing the mouth's natural movements. The process is relatively straightforward, as it usually only takes about 15 to 20 minutes to inject the fillers into key lip areas.
The most common dermal fillers for non-surgical lip augmentation include:
At Total Dermatology, we're pleased to offer both types of dermal fillers for clients interested in achieving more lip volume. Non-surgical lip augmentation is an excellent solution for candidates who want a selfie-ready pout without resorting to silicone lip implants.
How Much Does It Cost?
Non-surgical lip augmentation varies from patient to patient; however, according to the American Society of Plastic Surgeons, the average cost of dermal fillers in 2018 was about $682. This cost can vary according to where you're located, the expertise of your injector, and how many dermal fillers you need to achieve your ideal results.
How Long Do Lip Fillers Last?
Lip fillers aren't designed to last as long as their traditional filler counterparts. This is because of the HA gel within the filler itself; it's specifically designed to be thinner than other dermal fillers so as to maintain the mouth's natural movements. 
In general, non-surgical lip augmentation results last anywhere from four to six months.
"I had juvederm lip injections and I love it!"
Take the Next Step
Want to learn more about non-surgical lip augmentation, including which one might be best for you? Schedule your consultation with board-certified dermatologist Dr. Nissan Pilest at Total Dermatology in Irvine, CA today by calling (949) 727-3800.