Your Skin Type Changes
It's tempting to hold tight to your "skin type" and assume it never changes. It DOES change. And those changes make a big difference in how your skin should be treated.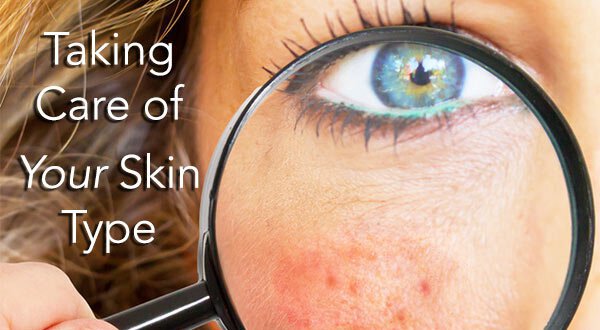 Your skin care strategies will change when your skin "type" undergoes a change. The important thing to do is to pay attention to how your skin looks, feels and behaves and reassess your skin care routine as you notice differences.
How do I determine my actual current skin type?
Realistically, the best skin advice comes from a skin doctor who not only sees "normal" skins, but also skins that are suffering from any number of challenges. There are resources online that will help you make a general determination of your skin type. Don't stay locked into the idea that you are "normal" or "oily" or "mature" when there are many subtypes, each with its own needs. Your skin type last year may be very different from your skin type this year. Expect changes!
One skin-typing resource that is very unique is a book written by dermatology colleague Leslie Bauman, The Skin Type Solution, (super inexpensive on Amazon). Each type is shown with the recommended skin care product categories. Self education will help you avoid a lot of department store mistakes as well as a lot of money.   Here's a quick overview of Dr. Bauman's types.
Self-typing is a first step in empowering your decisions, but still leaves a little to be desired – especially if your skin is acting super-confused. For an expert skin typing and recommendation, head to the dermatologist's office.
If I'm sure about my skin type, can't I just pick products myself?
Of course you can. Just take the time to understand how those products are supposed to work and be careful in choosing multiple products that you may be layering.
The older you get, the more complicated skin care gets simply because there are so many added considerations that come with aging.
On your own, the choices are nearly limitless…and limitlessly confusing. But, if you want to take the do-it-yourself route, at least skip the department store counters where the very nice sales lady is a sales lady with a sales quota and most of the products are heavily scented (think sensitizing!). Actually less risky than the department store is the drugstore after you've done some detective work.
Safe bets for nearly all skins, oily, sensitive, dry, mature and everything in between are Cetaphil and many Neutrogena products. Stay with the simpler formulas. ACTIVE products with acids or retinoids/retinols are best recommended by a board certified dermatologist, no matter if they come from the doctor's office or the drugstore.
When faced with Extreme Changes
Most skin type shifts are progressive. However, when you're confronted with big changes in a short period of time, there could be other things going on and that's the time you definitely need to see a physician.
Rashes, cracking skin, unusual acne, patterned redness flares and anything that's very unusual generally has an underlying condition that's stoking that particular fire. A dermatologist in tandem with an occasionally needed medical specialist can nail down the cause and take appropriate action.
Not sure what your skin's up to or how to choose the right procedures? Call our Irvine dermatology office for a personal consultation (949) 727-3800 or complete the form below to reach us online.
Resource Articles
Can You Change Your Skin Type?
Bauman Skin Types – 16 Types of Skin and suggested product categories