The Truth About Pimple Popping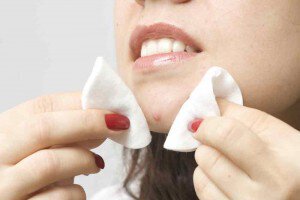 Hard to resist popping a pimple when it's glaring at you in the mirror, isn't it? We'll always tell you "don't" but we know that those instructions are sometimes too tough to follow. So, if you simply can't resist, follow some rules to minimize potential disaster.

Make sure your skin, hands and nails are super clean (use a nail brush too – there are some nasty germs that can hide beneath your nails).
Stand in front of good light and use a magnifying mirror if you have one.
Ask yourself if you are willing to deal with the results if you make things worse.
If the pimple is deep and swollen, it's likely cystic and you WILL make things worse and potentially scar.
Still determined?
Don't pop too early – it's best to wait until the pimple has a firm white head.
Sterilize a sewing needle with a match – wipe it with rubbing alcohol. Wipe the pimple and fingers with the alcohol too.
Holding the needle parallel to the surface of your skin, open the top of the pimple (don't dive straight down – you only want to pierce the the top of the pimple).
Wrap your fingers with a clean tissue or use a couple of cotton swabs.
Once you've made an opening, gently squeeze the pimple with a rolling motion inward and upward around the base of the pimple. If it doesn't empty easily, don't keep pressing…wait until later in the day. Continued persistence can rupture the follicle and cause more pimples and deeper level infection.
Dab the pimple with alcohol and keep your hands away from your doctored skin.
Obviously the best case scenario is to keep your acne in control so you aren't confronted with pimples. Mild acne responds will to topical products that contain salicylic acid and benzoyl peroxide. Moderate to severe acne require medical attention to get things under control and to prevent scarring.
There are many over the counter preparations you can buy at the drug store. If they don't work, then don't suffer. See a dermatologist who can get you on the path to clear skin. Read more about Acne and Acne Scarring.