The Fat Fighters
"It was one of those serious "aha!" moments. The light left no room for me to pretend I didn't have those pudgy chunky places. Front? Yep, that belly fat has to go. The chubby chin? It's too warm to try to hide that! Back? Seriously, how can I expect to exercise that bra fat off? "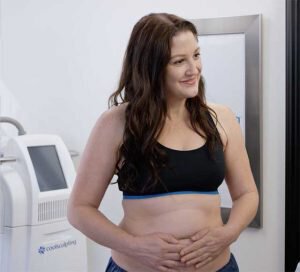 Winter lets all of us hide out a little. Heavier clothes hide pooches and bulges. Now's a good time to take a serious look at what you can do to slim and trim without the monotonous trips to the gym or the fad of the month starvation-diet techniques.
CoolSculpting Mini for Double Chin
You'll look a little funny during your treatment (and yes, you can take a selfie), but you'll love how you look when that chin fat's gone.
Pick a spot – almost any spot; like belly, back, waist, inner thighs. We have the super fast system that takes about half an hour per session. Go head, be a cheater and freeze the fat off the easy way. Stubborn fat has met its match.
CoolSculpting is known all over the world. Completely noninvasive! We have some of the most competitive pricing for treatment packages you'll find. Call  (949) 727-3800
Fat Freeze These Areas
Abdomen
Love handles
Back / bra fat
Inner thighs
Double Chin
Fat "Dissolving" for Double Chin
Kybella works via a "fat dissolving" ingredient that's injected into the double chin area. Typically a series of treatments are required to achieve the best possible outcome. You're numbed, Dr. Pilest uses tiny needles to inject the solution, and you start to feel the action right away as fat cells begin to dissolve.