Sunburn Art – The "Tan Tattoo"
If you haven't heard about sunburn art yet – or seen it, you probably will.  While interesting and decorative, don't be fooled into thinking it's safe. Like a lot of trends, this one will fade out, but the damage it causes to your skin won't.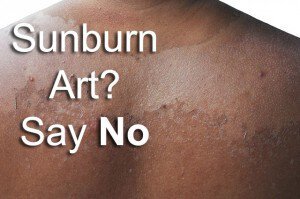 We preach sunscreen and sunblock for a good reason…skin cancer prevention is the top of the list. Then prevention of wrinkles, discoloration, actinic keratosis and early collagen degradation. Skin cancer surgery is not pretty and it would be a terrible price to pay for "decorating" yourself just to be part of a social trend.
Read SunburnArt? Experts warn against dangerous social media trend CBS News article.
Other reasons to bypass this trend: Sunburns cause swelling, pain, peeling, irregular pigmentation and in some cases skin infections when the skin is blistered.

Those of you with ethnic skin may see your "tattoo" far longer than you anticipated.