Something New – Fraxel 600 CO2
Fraxel 600 – A New Superficial CO2 Laser Option
We admit, the name doesn't give you a clue – unless you're a laser doctor!
A little background
Fraxel RePair is the flagship fractional CO2 laser we use here at Total Dermatology. It can produce some serious changes in severely sun damaged skin with the deepest laser levels available from any machine. CO2 laser power is unmatched.
Fraxel 600 uses the same technology but with a change in how deep the laser beams penetrates the skin and how much surface area each beam covers. 
Narrow and deep vs shallow and wide
Whereas the standard Fraxel Repair laser penetrates deeply in narrower beams; the Fraxel 600 has shallow penetration with wider beams capable of treating up to to 70% of the surface in a single treatment.
That kind of coverage is almost equivalent to the original full coverage CO2 laser, but with a lot less recovery since you still have "virgin skin" surrounding the lasered tissue to speed healing!
Heat is not penetrating that deeply, so recovery is much quicker and post treatment care is simpler.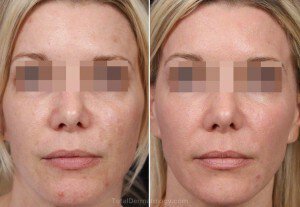 What problems does the Fraxel 600 solve?
Designed for pigmentation issues, texture and tone irregularities and the hated crepy skin, the Fraxel 600 treats skin types I, II and III.
Treatable areas include
face & neck
chest
upper arms
These are all locations exposed to the sun with the attendant sun damage and discoloration.
Very little pain, with 3X the gain
As with any ablative laser that actually vaporizes skin tissue, there is some downtime of 3 to 5 days. It's not painless, but that is easily managed with oral medication before treatment.
 The real payoff is a single session reaps the benefits of 3 sessions of other laser technology (such as the Fraxel Dual) and the results come apparent much sooner.
Book a consult with Dr. Pilest to see if the Fraxel 600 is a better choice for you. (949) 727-3800