Why Your Skin Type and Origin Matters
"What does where my grandmother's from have to do with my skin?" In a word – everything.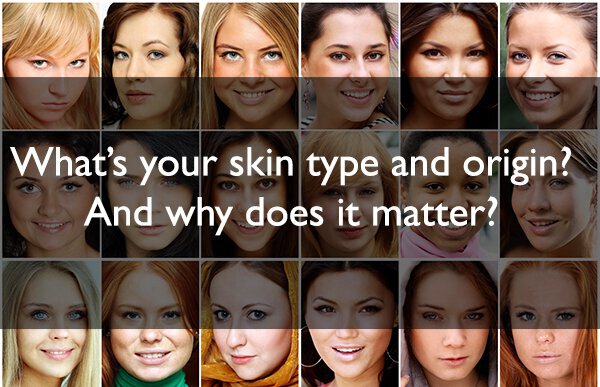 Your Skin – Unlike Any Other
How your skin responds to heat, chemicals, sunshine, bug bites, skin allergies, lasers and the increasing number of medical and cosmetic procedures is heavily dependent upon your genetic mix. When you're considering your options for scar reduction, hair removal, skin resurfacing, sun damage and even over-the-counter skin scrubs, understanding the impact of your genes becomes an important part of the decisions you make.
Why?
Each skin problem affects each skin differently. Which means how that problem is treated needs to be not only effective, but also carry the least risk. Not all lasers are meant for all skin types and colors. The "color" of your skin can fool you. There are many ethnic skins that are very light, yet carry a heavy pigment profile that only shows up after a seemingly "safe" chemical peel or laser treatment.
You'll be asked about your ethnic roots when you visit Total Dermatology; not because we're nosey, but because that knowledge helps make sure you get a treatment that will work the best with the least side effect or risk. That's why, when you might have assumed laser was what you needed, Dr. Pilest might have instead picked eMatrix or even a chemical option for treating your Melasma or sun damaged skin. 
Another Example: Pale skin with Scandinavian origins has little pigment and tolerates lasers and deep chemical peels with near-zero risk of post treatment pigmentation. On the other hand, Asian skin with acne scars has to be treated with kid gloves, and often requires pre-treatment pigment suppressors to lessen pigment response when lasers are used. Sometimes lasers are not appropriate at all.  It takes strong knowledge by your doctor, and a fairly accurate self-knowledge of your gene pool to arrive at the best possible choice for treating your skin for your particular skin problem.
Download this article about skin typing to understand YOUR skin better. 
Safer skin treatment options for skin with pigment include eMatrix for scars and resurfacing or Microneedling for collagen improvement and scarring.
And of course,  if you REALLY want to know your genetic background, there are easy DNA sites like Ancestry.com and 23andme.com 
Call for Information or Consultation (949) 727-3800