Rosacea – The Rosy Face Predicament
Rosacea – The "Rosy Face" Predicament
You aren't embarrassed, but you look it.
You don't have typical acne, but you do have breakouts.
You don't want stares, but you get them.
Redness and Acne = Rosacea?
The redness that marks this condition is a perpetual problem requiring control – since there is no "cure all" for Rosacea. Additionally, the type of acne that can accompany this chronic disease can't be treated with regular acne medications. If you feel you're destined to be "rosy-faced" or pimply forever, know that there IS help.
If you have Rosacea, you may or may not recognize it for what it is – and may not even know all the treatment options that exist. If you have Acne Rosacea and don't know it, you're probably doing more harm than good if you use typical acne topical products available in the drugstore or online.
Rosacea – Diagnosing and Treatments
Diagnosing Rosacea and choosing the right treatment plan for your skin type is not a do-it-yourself task. Medications and medical skin treatments make a huge difference; understanding how they work and why they're needed help you stick to the program.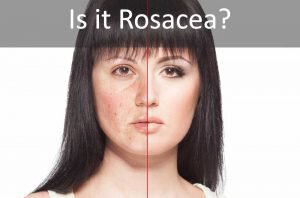 Topical medications help manage flushing by dialing back the skin's reaction to your triggers – which can be a very long list of simple food or drink choice, sunlight, exercise or a myriad of other typical activities. See the Do's and Dont's of Rosacea
Vascular lasers remove redness and are excellent at shutting down enlarged vessels that "feed" the smaller capillaries. Increased blood flow into the capillaries is what creates flushing episodes. When you shrink the feeder vessels, you're limiting the flow into the smaller vessels and capillaries. Limited used of Rosacea-specific antibiotics can help quickly reduce inflammation of Rosacea-induced acne by killing bacteria within the acne lesions.
Botox for Rosacea?
A newer treatment uses the Aquagold fine touch device to place microscopic amounts of dilute Botox into the upper skin. This "micro Botox"  subdues the action of facial capillaries, in turn, reducing the flushing response. Independent study shows this works well and lasts around 3 months. Lifestyle choices and sun protection can't be dismissed. Once you know your avoidable triggers, avoid them when possible.
Thank Heaven for Camouflage
For women, makeup options can help mask redness.  
Oxygenetix makeup available here in our office is a great option. Read more about this "second skin" breathable makeup. You can use it mixed with a moisturizer for more sheer coverage. If you prefer a dry application product, CoverFX pressed mineral makeup is ideal; find it online or at Sephora. (Tons of colors to match undertones and color depth!) Living with Rosacea can be tolerable with the right plan in place and medical monitoring. Don't try to go it alone. Call our Irvine dermatology office at (949) 727-3800 or Request a call from a specially trained patient advisor.