ROSACEA
Our initial medical office visit is $275 and follow-up medical appointments are $175. Please feel free to contact us at the number listed below if you have any questions, or would like to schedule an appointment.
ROSACEA TREATMENTS
Because the signs and symptoms of Rosacea vary from one patient to another, treatment must be tailored for each individual case. Identifying Rosacea is tricky for many patients who also experience breakouts. Those with Acne Rosacea need very different treatment from a patient with Acne Vulgaris. At Total Dermatology we strive to deliver the best Rosacea treatments Irvine has to offer. Dr. Pilest will most often use a combination of treatments to provide the most relief as quickly as possible.
Various *oral and topical medications may be prescribed to treat the bumps, pimples and redness often associated with the disorder. Treatment with oral antibiotics that are "Rosacea-specific" reduce inflammation and redness and topical therapy will generally be used together in the initial treatment stages. * Prescription-based office visits are medical in nature. Please view the Medical Insurance Notice above.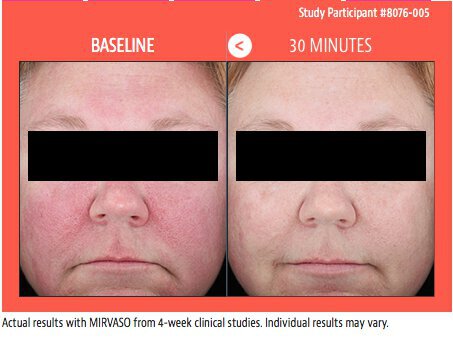 Topical lotions or gels containing azelaic acid help maintain remission. For excessive redness, a newer topical product named Mirvaso can be used. It works by shrinking the capillaries in the skin – much like redness removing eye drops "get the red out". Although it is temporary in action (about 12 to 18 hours), the effects are readily apparent in 30 minutes.
Vascular laser – Rosacea that has been left untreated can result in expanded veins in the face and nose. When appropriate, Rosacea treatments with a Vascular laser (Vbeam) are very effective. Vbeam is considered a cosmetic treatment.
For our younger Irvine Rosacea treatment patients with oily skin, salicylic acid peels can be used to help reduce inflammation and improve skin that is prone to acne
Ocular Rosacea may be treated with oral antibiotics
Skin products that reinforce the skin's natural barriers
In addition to medical treatment, Rosacea sufferers can improve their chances of maintaining remission by identifying and avoiding lifestyle and environmental factors that trigger Rosacea flare-ups or aggravate their individual conditions. The National Rosacea Society offers a free Rosacea Diary Booklet to assist patients in identifying factors that may affect their individual cases, as well as a booklet called "Coping with Rosacea" that provides tips on lifestyle management, Rosacea Q and A's etc. If you would like to learn more about Rosacea Treatments, please call our office at (949) 727-3800 today to schedule a consultation or fill out the form on this page and one of our trusted staff members will reach out to you promptly.