Post Holiday Skin Resurrection
If you spent a lot of evenings on the holiday party and event circuit, chances are you got too little rest and too much food and drink. The "holiday side effect" shows up on your face and your body.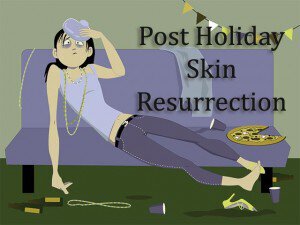 Here are some tips on how to refresh your skin and look refreshed going into the new year.
Moisturize all over – Grab a tub of CeraVe or Cetaphil or Aveeno and quench your body's thirst for moisture.
Exfoliate – Treat yourself to Microdermabrasion to whisk away dehydrated skin cells.
Perk up collagen stimulation – Gently with Clear and Brilliant or Microneedling (PRP boosts results with your own platelet growth factors).
Eat better – Fill up the fridge with fresh salmon, dark greens and winter fruits – Costco has some very tasty kale salads!
Sleep more. Longer nights are nature's way of encouraging extended sleep. Take advantage.
Throw out old skin care products. If they've changed consistency, color or don't pass the fresh sniff test, toss them.
Replace old cosmetics. If it's gunky, thickened or left uncapped routinely, get some new makeup, lipstick, mascara, etc. You'd not eat 9 month old food from the fridge so don't force your skin to battle old cosmetics that may be teeming with bacteria.