News – About Men and Their Bodies
You hear the term "what women want" – alot – there was even a movie about it where an ad man was slightly electrocuted in the bathtub (while he was donning panty hose) and could then hear women's thoughts (Heaven forbid THAT!) What about men?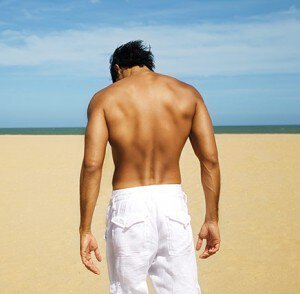 What DO men want?
Besides becoming ridiculously wealthy, what do the guys ask for? When it comes to their bodies? A six pack? Big shoulders? Yeah, all that. But what else they want is to be free of the spare tire/love handles that seems to plague an awful lot of men after they move past their early 30's.
From Realself
"The fat-freezing technology CoolSculpting is also gaining popularity; it was the top name-brand procedure doctors mentioned when we asked what male patients request.
"Men want CoolSculpting, CoolSculpting, and more CoolSculpting," says plastic surgeon Dr. Elisa A. Burgess of Portland, Oregon. "They frequently talk about the fatty tire around their waist…. They work out and watch what they eat, but they cannot improve that tire." RealSelf article
A # 1 worldwide choice
For a noninvasive choice, CoolSculpting certainly has its disciples…and rightly so. Worldwide it's THE #1 noninvasive fat reduction procedure. Not because it's noninvasive, but because it's noninvasive and it works!
This company got off and running because scientists noticed kids who sucked on popsicles had deep dimples from fat loss in their cheeks. Now it's an international success. That's quite some achievement…and to think it all started with popsicles. Clinical Study Data
And New Beauty's choice awards voted in CoolScupting as the Best Fat Reduction Treatment early this year. That's a beauty authority you listen to!
Treatment to Transformation? What's that?
Once we began the Treatment to Transformation programs, men were actually the first to embrace the idea of doing it until it brought the results they wanted. Although CoolSculpting averages out a 25% loss of the fat layer per treatment, that's sometimes not enough to whittle a waist down to the desired size.
(By the way, Treatment to Transformation packages bring the price per application down to levels we aren't even allowed to advertise per the company's guidelines – but you are free to come in for a complimentary official quote) T to T examples
Retreating and overlap treating get some very customized sculpting that a single area treatment sometimes simply can't achieve. It's not the machine's fault there – it's simple science, and the amount of a patient's body bulk that is comprised of fat.
Isn't it all just EGO?
What's wrong with ego? We live in a society that places a huge value on appearance. The correlation between feeling good about how you look and feeling good about just about everything else is very strong. Looking good = feeling good psychologically.
Will I look like I'm 18 again?
Probably not, but you will look better and trimmer and you won't be so self conscious about that spare tire or belly that escapes over your belt line because, even it's not all frozen away, a lot of it will be.
Call for a consultation with Dr. Pilest  (949) 727-3800
Online Request for Consultation
*In the U.S., the CoolSculpting procedure for non-invasive fat reduction is cleared for the flank (love handle), abdomen, and thigh. Typical side effects include temporary numbness, redness, swelling, bruising, firmness, tingling, stinging, and pain. Rare side effects may also occur. The CoolSculpting procedure is not for everyone. You should not have the CoolSculpting procedure if you suffer from cryoglobulinemia or paroxysmal cold hemoglobinuria. The CoolSculpting procedure is not a treatment for obesity. As with any medical procedure, ask your physician if the CoolSculpting procedure is right for you. Results and patient experience may vary.