How Long Does a PDO Thread Lift Last?
Are you looking for a non-surgical solution for sagging skin on your face and neck? A PDO thread lift can lift and tighten your skin without surgery or extensive downtime.
The PDO thread lift is a quick, low-risk procedure that takes less than an hour to complete, so it's often called the "lunchtime facelift." It is an effective way to tackle sagging skin on the brow, jawline, and neck.
At Total Dermatology, we offer the PDO thread lift by NovaThread to patients wanting to give their face a refined, contoured look without undergoing traditional facelift surgery.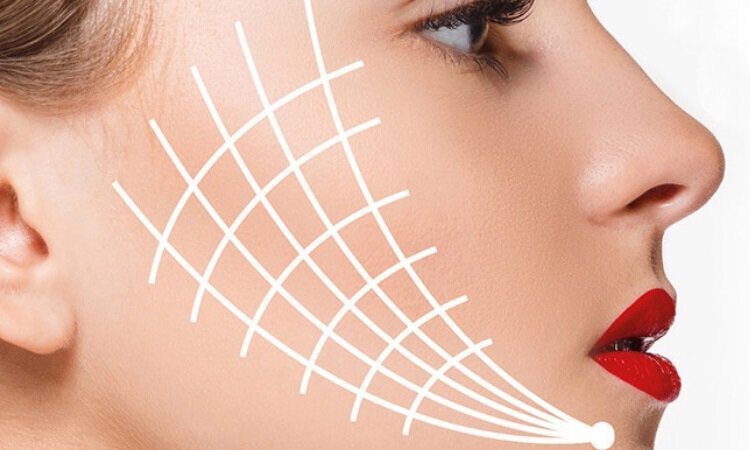 *Individuals Results May Vary.
What is a PDO Thread Lift?
A PDO thread lift is a minimally invasive treatment that uses PDO (polydioxanone) absorbable sutures to lift and tighten sagging skin. PDO sutures are biodegradable polyester sutures commonly used in surgical procedures and are safely reabsorbed by the body.    
A PDO thread lift corrects signs of facial aging caused by skin laxity, e. g. jowls and sagging cheeks. Whereas a surgical facelift lifts the underlying facial muscles, the PDO threads lift and shape facial tissues. 
How Long Does a PDO Thread Lift Last? 
A PDO thread lift can last anywhere from one to three years. This is why it is an excellent alternative for people who are not yet ready for a facelift or may not want to get dermal fillers. 
During a thread lift, the doctor places the PDO threads in the subdermal layer of the skin. The skin heals around the threads, and they dissolve on their own after about 4-6 months. Follow-up treatment can be done after that time to maintain the results. 
How Does a PDO Thread Lift Work?
The PDO thread lift is an in-office procedure that is done under local anesthesia. The threads are positioned in the areas of the face where the skin has started to sag due to a decline in collagen and subcutaneous fat. The loss of this scaffolding undermines the structure of the skin. The PDO threads anchor the tissues and provide additional support in the lower layers.
When the NovaThreads are inserted below the skin, they stimulate the body's healing response. Patients will notice a gradual improvement in the firmness and elasticity of their skin as the body naturally creates new collagen and cells regenerate over time.
Collagen is a protein that is naturally produced by the body. It is an essential component of the skin and helps keep it strong and elastic. However, the body produces less collagen with age, which causes the skin to lose elasticity, and leads to wrinkles and sagging skin.
There is virtually no downtime after a PDO thread lift, and patients can usually return to normal activities immediately after the procedure. However, some patients experience mild soreness, swelling, and redness, which generally resolve within a few days.
When Will I See Results?
You should notice a modest degree of lift immediately after your PDO thread lift. The full results can be seen about 4-5 weeks after the procedure, as your face will look lifted and more youthful.
Is a  PDO Thread Lift Right for You?
If you would like to address sagging skin on the face, particularly around the eyes, nose, and mouth, a PDO thread lift may be the right option for you. Ideal candidates should also have mild to moderate skin laxity and be between 38-55 years of age.
Benefits of a PDO Thread Lift
Below are three reasons you should consider getting a PDO thread lift.
1. Tightens the Skin
A PDO thread lift tightens sagging areas of the face by providing support beneath the skin, which lifts the skin and gives the face a smoother, younger look. The procedure can also lift the brows and jowls and smooth and tighten the midface and neck.
2. Increases Collagen
A PDO thread lift also stimulates collagen fibers in the skin and rejuvenates facial tissues. The insertion of the PDO threads beneath the skin triggers the body's healing response, prompting the body to produce more collagen. The infusion of collagen provided by the PDO thread lift thickens and hydrates the skin making it firmer and tighter.
3. Long-lasting Results
The PDO thread lift reverses signs of aging and gives you a more youthful look. The results can last anywhere from 1-3 years.   
If you are looking for a non-surgical way to achieve firmer, younger-looking skin, a PDO thread lift may be the ideal fit for you. It is a low-risk, minimally invasive procedure that delivers instant results with very little downtime. 
Dr. Pilest recently did a thread lift for me. Shortly before, I viewed a YouTube video of another provider performing the procedure, which only heightened any trepidation. Once in Dr. Pilest's hands, that all disappeared! His enthusiasm and precision along with his gentle manner relaxed me immediately. The results are second-to-none, I had no pain or discomfort whatsoever. Yet again only adding to my already upmost confidence and admiration of this gentleman. Happy Birthday, Dr. Pilest! Sincerest thanks, Leslie T.
LT, Happy Patient
Take the Next Step
Ready to experiencea PDO thread lift for yourself? Schedule your consultation with board-certified dermatologist Dr. Nissan Pilest at Total Dermatology in Irvine, CA today by calling (949) 727-3800 .
Totally committed to you
Schedule your consultation with Total Dermatology today!
When it comes to your skin and your health, it really is all about what's best for you. Total Dermatology understands this, which is why we offer versatile treatments with experienced and highly trained aesthetic professionals led by Dr. Nissan Pilest. Your Total Dermatology transformation awaits.