How Can I Shrink My Pore Size?
Enlarged pores can be a real downer, especially if you're on a mission to get your best skin. Pores are vulnerable to retaining all the dirt and pollutants that we're exposed to on a daily basis, plus they can be a battleground for acne, blackheads, and more. So if you're on a quest to get an even complexion, you might be asking yourself:
"How can I shrink my pore size?"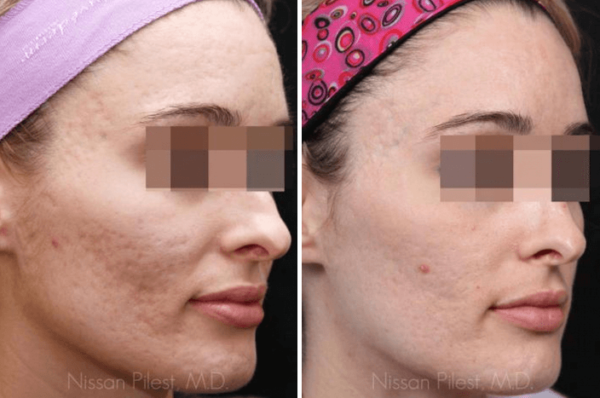 *Individuals Results May Vary.
Shrinking Pore Size with Laser Skin Rejuvenation
Enlarged pores can leave your skin looking tired and dull. The good news is there are resurfacing treatments available that will bring your skin back to life. 
Clear + Brilliant: Begin refinishing your skin, and reducing pore size gently with no pain, no "holing" up to recover and only the most minimal of post-procedure redness or swelling . You'll simply have more beautiful, healthier-appearing skin to show for this short procedure.
Fraxel Dual: This resurfacing procedure leaves your skin completely rejuvenated, the Fraxel technology treats quickly with pleasing overall improvements and minimal or no downtime. Treatment is fast. The unique laser very quickly can treat your entire face in about 20 minutes.
Microneedling for Treating Enlarged Pores
One of the biggest contributing factors to enlarged pores is sluggish cellular turnover. This process is responsible for helping us shed our top dermal layer so that we're constantly revealing new skin. As we get older, this process slows down, resulting in the accumulation of environmental damage, uneven skin texture, and even enlarged pores. That's why, in order to treat enlarged pores, it's important to address the sluggish cellular turnover that's causing it in the first place.
That's where microneedling with the Aqua Gold fine touch comes in. A patented gold-plated hair-fine needle system to painlessly deliver custom solutions into the skin at the ideal 600-micron depth. This procedure is carried out using a small handheld device, which contains several fine-tipped needlepoints. The device causes the needle to quickly puncture the skin, creating tiny channels down to the deepest dermal layer. The entire procedure kickstarts the body's wound-healing processes, resulting in increased collagen levels and boosted cellular turnover. Additionally, Botox applied into the dermis (not the muscle) helps shrink pore openings. This is the only recognized treatment that has an actual physical effect on pore size.
I had my 1st of three fraxel laser treatments 4 days ago. I was very apprehensive since I had heard that it could be painful. The nurses and medical staff were very accepting of my nervousness and answered all my questions concerning the procedure, which helped me to relax. Dr. Pilest was very gentle and watched my face for signs of discomfort. He would work around sensitive areas on my face when I showed signs of pain, coming back to those areas later for short bursts of laser. The staff made sure I was well informed concerning after care and what to expect. I have to say, one of the most professional offices I've ever seen. I've been a Registered Nurse for 30+ years… so I know of what I speak. Highly recommended!
Take the Next Step
Want to learn more on how you can shrink your pore size with skin peels and microneedling? Schedule your consultation with board certified dermatologist Dr. Nissan Pilest at Total Dermatology in Irvine, CA today by calling (949) 727-3800.
Totally committed to you
Schedule your consultation with Total Dermatology today!
When it comes to your skin and your health, it really is all about what's best for you. Total Dermatology understands this, which is why we offer versatile treatments with experienced and highly trained aesthetic professionals led by Dr. Nissan Pilest. Your Total Dermatology transformation awaits.