How Can Dermal Fillers Treat Acne Scarring?
Dermal fillers are one of the best ways to revitalize the skin, but did you know that they can treat acne scarring? For people who experience unsightly dips in their face due to a lifetime of skin problems, there are a number of dermal fillers that can get to work and make you feel like a new you again! Let's show you the skinny on dermal fillers.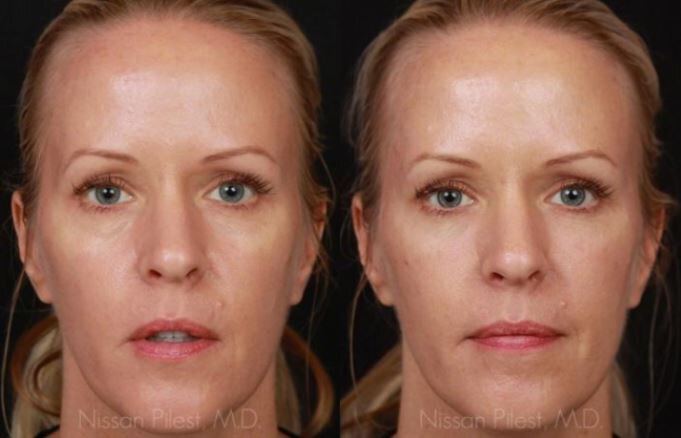 *Individuals Results May Vary.
Dermal Filler Overview
Dermal fillers are an injection of a hyaluronic acid compound, which is a substance that exists in the body to bring moisture to the surface of the skin, transports nutrients, and regulates water balance in the skin. 
A dermal filler works by boosting the skin's supply of hyaluronic acid. This immediately revitalizes and adds volume to the skin, reducing the appearance of wrinkles and lines. 
Dermal Fillers for Acne Scars
As dermal fillers help to boost the volume of the skin, they are also used to treat acne scars. 
The fillers work by improving the contours of the skin, reducing the depressions that create those unsightly "craters" left behind by acne scars.
Bellafill®
Bellafill® is the only filler that is FDA-approved for treating acne scars, specifically rolling acne scars. It works by adding volume to the acne scars, which lifts them to the level of the surrounding skin, so they are less noticeable. The results last for up to one year. 
Other Types of Dermal Fillers
Total Dermatology provides the following types of dermal fillers:
Juvederm®
Juvederm has become one of the most popular hyaluronic gels, due to its soft feel and natural appearance. It is an excellent treatment for facial lines, deep folds in the skin, and all types of wrinkle correction. Juvederm® can also be used for lip enhancement. Depending on the formulation you use, they can have various long-lasting results. The product formulations include:
Juvéderm Ultra, which is great for contouring and volumizing facial wrinkles and folds.
Juvéderm Ultra Plus, which works for volumizing and correction of deeper folds and wrinkles.
Juvéderm Voluma, specifically used for extra volume in the cheek areas lasting up to 24 months.
Juvéderm Vollure, which is used for marionette and laugh lines, and can last for up to 18 months.
Juvéderm Volbella, used for lip lines and soft lip augmentation.
Restylane®
Restylane® is a versatile filler that creates fullness on the lips, fills scars, and plumps up facial areas. The different types of Restylane® fillers include: 
Restylane® Lyft, designed for more pronounced facial folds and cheek and midface volume restoration. 
Restylane® Refyne is very flexible with soft support and Restylane® Defyne is a little less flexible with firmer soft support. 
Restylane® Silk is a solution suitable for those who have lost lip volume due to "smoker's lines" and sensitively thin skin.
Radiesse®
Another type of high viscosity filler is Radiesse®, which stimulates collagen and improves natural elasticity, resulting in long-term results. 
It is often used to alter the shape of the nose, chin, and cheekbones, and is commonly used by men to create a more masculine jawline. 
These hyaluronic fillers degrade slowly, resulting in improvements for up to 18 months.
Sculptra®
Sculptra® is great for sunken or flat cheeks, facial hollowing, and provides a gradual and significant increase in thickness, which can have long-lasting effects for over 3 years.
Am I a Candidate for Dermal Fillers?
The ideal candidate for dermal fillers will have moderate to severe wrinkles or folds and problem areas they do not want to correct with surgery, such as their cheeks or under the eyes. 
Total Dermatology provides a number of dermal filler treatments to create fuller, more vibrant skin and removes those unsightly scars created by acne. 
WOW! I went into my appointment with a negitive attitude. I have all of my cosmetic procedures done in Europe and have very high standards. Even though I came across skeptical, I was treated with patience and respect. I had PRP and Botox and am so impressed with the quality and results. It is so nice to have a doctor that knows what he's doing!
Thank you!!!!!
Take the Next Step
Ready to experience dermal fillers? Schedule your consultation with board-certified dermatologist Dr. Nissan Pilest at Total Dermatology in Irvine, CA, today by calling (949) 727-3800.
Totally committed to you
Schedule your consultation with Total Dermatology today!
When it comes to your skin and your health, it really is all about what's best for you. Total Dermatology understands this, which is why we offer versatile treatments with experienced and highly trained aesthetic professionals led by Dr. Nissan Pilest. Your Total Dermatology transformation awaits.