The Dynamic Duo – CoolSculpting and Zwave
You know how popular CoolSculpting is.  The "can this really be real?" fat freezing system has been used to treat millions of people who need body sculpting but don't want surgery or surgical recovery.
Over time, we learned how to ramp up the results with overlapping treatments, layered treatments and manual massage. New CoolSculpting applicators were developed to specifically target different body areas, from bellies to banana rolls, back fat, love handles, inner thighs, upper arms and even double chins. We kept going back to the benefits of massage and although it was a little uncomfortable, we saw faster results.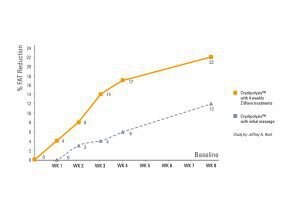 The Zwave Effect on CoolSculpting
Enter ZWave – a highly effective, quick, totally comfortable treatment which replaces manual massage with a machine that sends shockwaves through the fat layers, forcing the treated fat cells to break up more quickly. See the Study.
The end result? A faster rate of fat removal and happier patients.
Zwave goes beyond assisting in the effects on CoolSculpting and can be used as a systematic treatment plan in improving cellulite appearance. Although not a cellulite "cure", and not permanent, Zwave can keep your skin smoother if you stay on a consistent treatment plan.
CoolSculpting's embraced by the media and celebrities! Who wouldn't prefer the simple way to get rid of fat pockets and bulges?
Call (949) 727-3800 for your consultation and to get a full pricing for your recommended treatment plan.