Dermatology "Secrets"
Looking for YOUR Dermatology Secrets?
It's not that single filler, the one laser session or the one growth factor product that makes a gal go from drab to fab. It takes a recipe of person-specific procedures to complete a structural and surface change that makes the most of your features.
Great eye tips
Highlight them with Latisse for lush long lashes
Use Dysport to wipe out the crows' feet
Botox to de-frown and lift the brow
Restylane to fill in the hollows
Cheekbones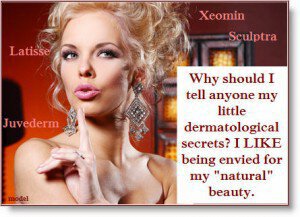 Used to have "to die for" cheekbones? Get that look back easily with Voluma, Radiesse or Sculptra.
We all see the changes that come with age or want to see changes from what our genes forced us to settle with. Today's dermatology secrets are easy to come by, carry very little risk and make some pretty magnificent changes quickly with the barest of discomfort.
Everyone enjoys positive attention. And a little peer-envy now and then can make us feel very special. A Newsweek poll shows that we actually have a leg up on in our career path when we look good.
Choose your secrets, share them and enjoy them. Today's Dermatology is loaded with options on top of options. No matter what you're unhappy with, there's probably a way to make it better.
Visit us in our Irvine dermatology clinic to see what your recipe for looking fantastic could be. Call (949) 727-3800 or complete the form below to get a call back.