Am I a Candidate for Laser Hair Removal?
Do you have unwanted body hair that's tough to reach with a razor or wax strip?
Or are you sick of shaving altogether, and want to put an end to the constant leg-bikini line-abdomen grooming?
If you found yourself answering "yes" to any of the above questions, you may be a good candidate for laser hair removal.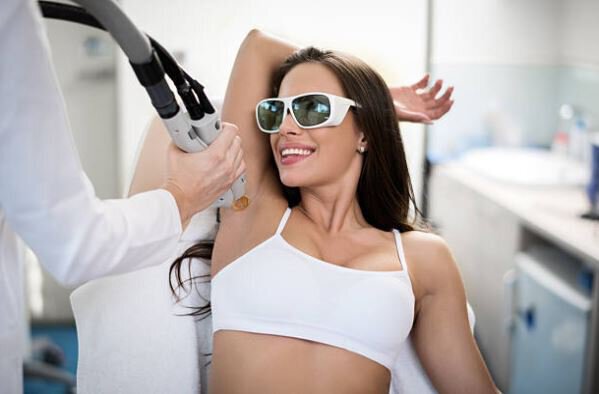 *Individuals Results May Vary.
What is Laser Hair Removal?
This innovative and FDA-approved treatment uses laser heat technology to target and destroy unwanted hair follicles directly at the root. Once treated, the hair follicle falls out and slowly grows back. Over time and with repeated sessions, the hair grows back so slowly that it takes weeks – even months – before you notice regrowth.
Want to see if this treatment is right for you? Take a look at the biggest signs you're a good candidate for laser hair removal!
Laser Hair Removal Consultations Available
Request A Consultation
3 Signs You're a Good Candidate for Laser Hair Removal
1. You have a good contrast between skin tone and hair color.
Most laser hair removal technologies are designed to work on candidates with pale-to-medium skin tones and dark, coarse hair. However, today's newest technologies are being built to target dark hair against darker skin tones, meaning that more people will soon be able to experience the wonders of laser hair removal.
2. You have a large area of unwanted body hair you want to treat.
While laser hair removal can treat unwanted hair on smaller regions (like the underarms or upper lip), it works best on larger areas like the stomach, back, arms, legs, and more. 
3. You can commit to multiple laser hair removal sessions.
Laser hair removal only works as a treatment if you attend the recommended number of sessions for your body area (usually between three to twelve sessions). Otherwise, you may not see the laser hair removal results you've been looking for.
"Dr Pilest staff at so sweet and helpful . I had the E -matrix laser done and I am super happy with the results . If I want anything else done in the future I be going to see them again ." *
Take the Next Step
Want to learn more about laser hair removal, including if you're a good candidate for this popular treatment?
Schedule your consultation with board-certified dermatologist Dr. Nissan Pilest at Total Dermatology in Irvine, CA today by calling(949) 727-3800.