Treatments for Leg Veins
Primary options for small and superficial veins on the legs include both laser and sclerotherapy.
Sclerotherapy is a minimally invasive injection treatment for smaller varicose veins called reticular veins and spider veins. (Large varicose veins are generally treated with endovenous laser, a surgical procedure that is performed by vein specialists).
A special medicine is injected into the vein that causes it to shrink. The inner lining of the vein is injured by the medication action. This messages the body to trigger natural resorption of the vein. This process can take weeks or months depending on the number and size of the veins present.
At Total Dermatology we strive to deliver the best treatments for leg veins Irvine has to offer. Dr. Pilest uses the agent Asclera, known for its fast action, effectiveness and preference by patients.
Needle phobic? We totally understand. Skip down to laser treatment to see your options.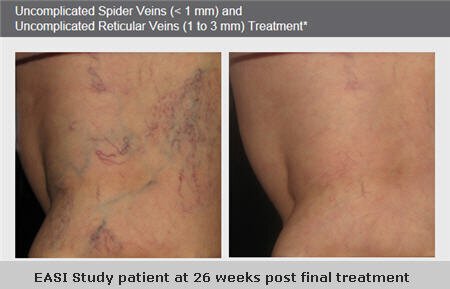 *Individual Results May Vary
How Does Asclera® Work?
Asclera® is a sclerosing agent that is injected into the vein. It works by damaging the endothelium, the cells lining the inside of blood vessels. This causes blood platelets to attach to the lining of the vessels; eventually, cellular debris and platelets cause the blood vessel to clot. Over time, the clotted vein will be replaced with tissue.
How Many Treatments Will I Need?*
Our Irvine leg vein treatment patients will most likely require several treatment sessions to get the best clearance. Veins can recur which will necessitate future treatments. If you already have weak veins, then it stands to reason that new ones could appear over time.
Side Effects?
There is a potential for post treatment pigmentation following Sclerotherapy injections. This pigmentation is treated with bleaching cream.
Patient Satisfaction
On average, 86% of patients were satisfied or very satisfied with their Asclera® treatment.
Patients were significantly more satisfied with Asclera® than with either sodium tetradecyl sulfate (STS) or placebo (p<0.0001).