Melasma is the toughest-to-treat pigmentation disorder. Melasma is the medical term for what is often called a pregnancy mask, but Melasma can affect anyone, male or female. Because Melasma is primarily a result of hormonal changes or heredity, the "treat and control" methods are the only options. Effective treatments will help lessen the visibility of this brownish pigmentation and certain topical products will help lessen the amount of pigment the skin produces. At Total Dermatology, we strive to deliver the best treatments for melasma Irvine has to offer.
Total Dermatology – Patient of Dr. Pilest
Since Melasma, like any pigmentation problem, is made worse from heat, Dr. Pilest prefers to treat the problem with low-heat or non-heat procedures. These treatments provide the best outcomes with the least potential side effects.
MELASMA TREATMENTS
Microneedling – Microneedling for Melasma has found its place high in the treatment hierarchy because of its effectiveness. A series of 6 treatments are spaced at 2 to 3 week intervals. SkinPen (an automated microneedle device) is used to create the tiniest of channels into the skin level where pigment resides. A hyaluronic acid solution is applied as part of the in-office treatment to create a hydrated environment. This preparation of the skin makes it more receptive to the bleaching creams that will be applied at home
Suppressing pigmentation is not a one-step event. Systematic treatments at appropriate depths for your skin and monitoring of progress make a big difference in outcome. Although the process may seem prolonged, it's slow and steady that wins the race. About Microneedling
Cosmelan Peel – A topical in-office cream peeling agent is applied to your skin and left on for the day (possibly overnight depending on the time of application and the severity of your Melasma. You will peel, similar to a peel after a sun burn. At home products further reduce the pigment levels and help suppress the development of new pigment. About Cosmelan Peel
Clear & Brilliant – Our "baby Fraxel" is a laser and as such is not appropriate for Melasma for every skin color, but provides a combination of enhanced cell turnover to lighten pigment and improves skin texture at the same time. About Clear & Brilliant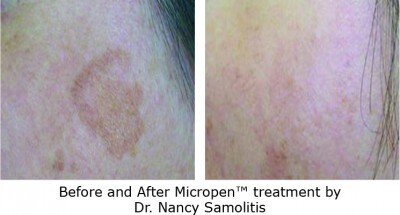 SELF HELP TIPS FOR MELASMA PATIENTS
Sun protection is #1. The most effective self help for Melasma is the consistent use of sun protection. Although sunscreen or blocks will not prevent Melasma, sun protection will help prevent it from becoming darker. Even short exposures to sun can cause significant darkening…even that short walk to the mailbox every day.
Sunscreens will chemically absorb UV rays while sun blocks will reflect them. If you have sensitive skin, sun blocks may be your preferred protection. New formulas contain micronized zinc or titanium dioxide which do not produce the white cast of older sun blocks.
Avoid overly hot environments when possible. If going to the beach or pool use a hat and stay under an umbrella. A water mister will help keep skin temperatures lower.
Love your sauna or hot tub? Get ready to see Melasma worsen or re-emerge. When your body temps rise, your melanin cells turn on!
Gym workouts can raise body temperatures and make Melasma worse too.
Avoid aggressive exfoliator scrubs or strong acid-containing products as both can create inflammation and worsen pigmentation.
Some birth control pills will cause Melasma. If you suspect this is the case, consult your doctor.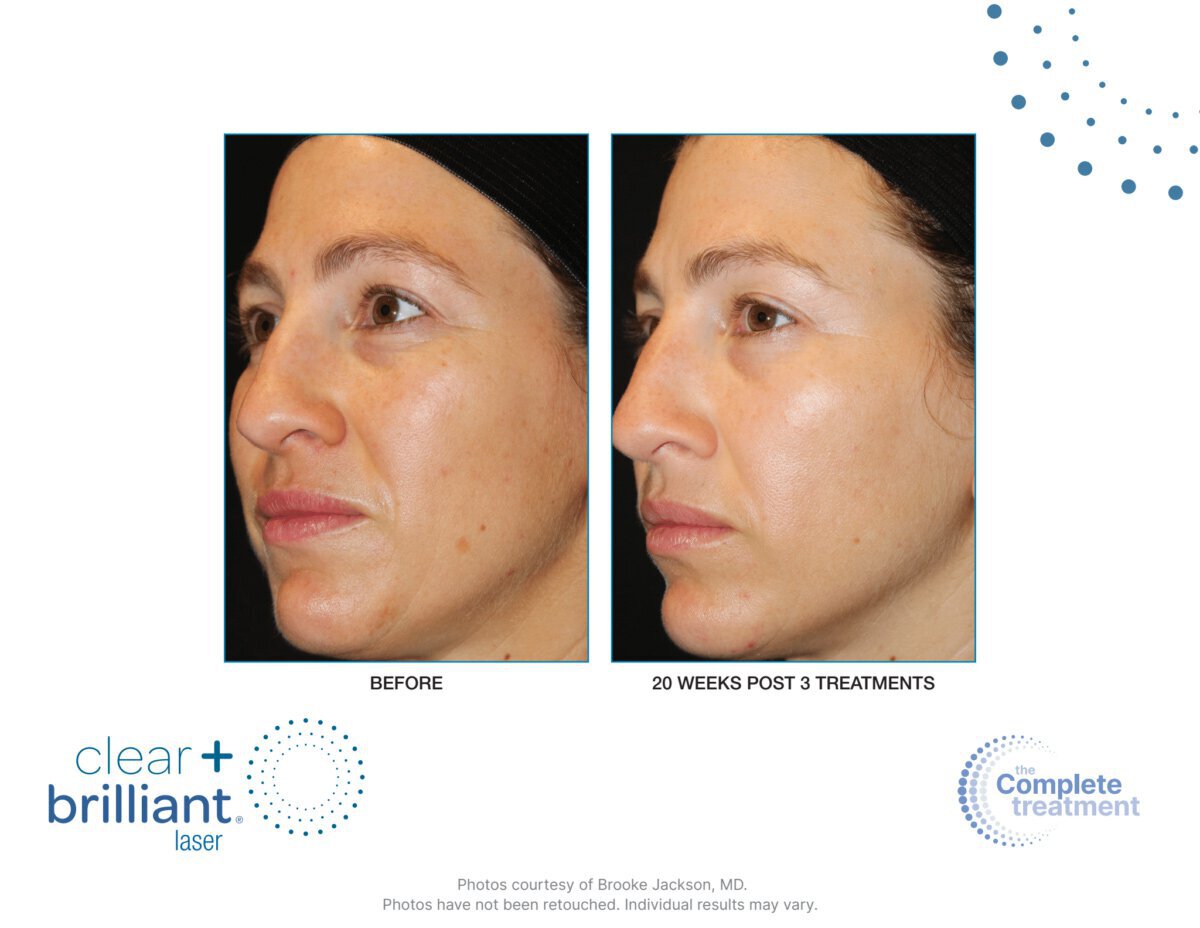 Clear + Brilliant® Touch Patient
*individual results may vary