What's the #1 Product Dr. Pilest Recommends For Beautiful Skin?
No matter what your schedule looks like — busy or with lots of free time —  you need your skin to look its absolute best.
That can be a tough goal though, especially in the midst of busy months and holidays. From shopping and cooking to visiting friends and family, it can feel as though there's barely enough time to dedicate to yourself, never mind your skincare.
That's why board-certified dermatologist Dr. Nissan Pilest of Total Dermatology in Irvine, CA recommends getting smarter about skincare.
"You don't need to carve an hour out of your day to get the best results from your skin," he points out. "In fact, I often tell my clients that if they want to get their most beautiful skin with fewer products and in less time, they need to focus on one ingredient: Retinol."
Think of retinol as the do-it-all ingredient that can help you achieve whatever you want from your complexion. Retinol comes in different strengths; the strongest retinol creams usually require a prescription from a dermatologist. Other forms of retinol can be found over-the-counter at your local beauty department or drug store.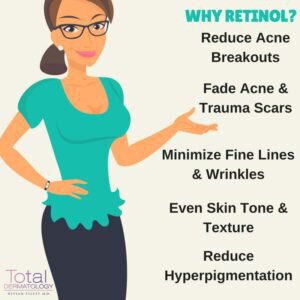 So what exactly does retinol do? Simple: It increases cellular turnover to reveal the younger, more revitalized-looking skin underneath. Retinol gently removes the top layers of the skin, which helps reduce the appearance of uneven skin tone. As a result, people who regularly use retinol in their skincare products can enjoy the following benefits:
Reduction in acne breakouts
Fading of acne and trauma scars
Minimization of wrinkles and fine lines
Evening of skin tone and texture
Reduction in appearance of hyperpigmentation
Want to learn how retinol can help you accomplish your skin goals? Schedule a skincare consultation with board-certified dermatologist Dr. Nissan Pilest at Total Dermatology in Irvine, CA today!
Total Dermatology serves the greater Orange County area, including Newport Beach.