What Does Microneedling Do?
Are you interested in microneedling treatments, but not exactly sure how it all works – or what it even does?
That's where we come in. Let's take a closer look at what microneedling does, including what it can treat and how to tell if you're a good candidate for treatments.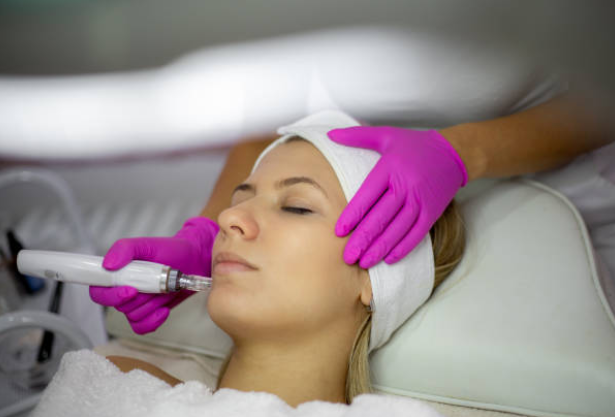 *Individuals Results May Vary.
How Does Microneedling Work?
Microneedling treatments utilize a small device that contains tiny needle-tips. These needles are placed at one end of the device, while the other provides grip for your microneedling technician to hold. Once it's turned on, the device triggers a lightning-fast jabbing motion with the needles that allows them to puncture the dermal tissue.
This device is cleverly designed to take advantage of your body's natural ability to create collagen. Here's how it works: once the needle tips puncture the skin, your body creates a rush of collagen and elastin as part of its wound-healing response. This excess collagen creates sped-up cellular turnover, which is key to bringing healthier skin to the surface faster.
The end result is skin that looks refreshed and revitalized. Over time and with repeated treatments, microneedling can even help fade the appearance of your most stubborn wrinkles and scars.
What Does Microneedling Treat?
Microneedling is designed to treat a variety of common complexion issues, including those associated with aging, hyperpigmentation, and more. 
Take a look at just a few of the most common issues microneedling can treat:
Mild-to-moderate skin sagging, especially around the jawline
Acne scarring from breakouts past
Microneedling is one of those comprehensive skincare treatments that feels like it can do it all because, well, it can. Whether you're concerned with signs of aging or you're noticing some mild skin sagging issues, microneedling can correct and solve the skin issues that are preventing you from feeling 100% confident.

Am I a Good Candidate for Microneedling?
You're a good candidate for microneedling treatments if you're bothered by any (or all!) of the complexion issues listed in the above section. 
Microneedling is best for candidates with mild to moderate complexion issues. For example, if you have significant facial skin sagging, you may see better results with traditional facelift surgery vs. microneedling treatments.
"Excellent Service! Sandy is great, she took the time to explained the best procedure for me. I will highly recommend Dr. Nissan Pilest and his staff."
Take the Next Step
Want to learn more about microneedling, including if you're a good candidate for this innovative treatment?
Schedule your consultation with board-certified dermatologist Dr. Nissan Pilest at Total Dermatology in Irvine, CA today by calling (949) 727-3800.