Recognizing Rosacea When It Strikes
From the National Rosacea Society:
"Rosacea usually first strikes individuals between the ages of 30 and 60, and may initially resemble a simple sunburn or an inexplicable blush."
Why early diagnosis and treatment is important
Early treatment helps considerably to keep this condition under better control. But recognizing Rosacea is often difficult and many people will try treating for what they "assume" the problem is — – whether that's acne or allergy or stress or medication side effects.
Controlling Rosacea can help prevent the more difficult to treat cases of capillary breakage and enlargement, so early diagnosis and control treatments do make a big difference.
See what Rosacea looks like, triggers and treatments
Social Stigma affects up to 85% of Rosacea sufferers
The social stigma that evolves from Rosacea or Acne Rosacea can be especially troubling and studies show that from 61% to 85% of sufferers report a negative effect on their social life (depending on subtype of the chronic condition and its manifestations – see full Rosacea Society blog here.)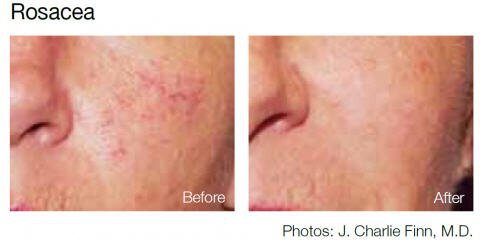 A patent's comments:
I'd like to thank Dr. Pilest for treating the most severe case of Rosacea I've seen and experienced. He treated me with such understanding and had me ready for a very important "Generation" family photo in just 1 week. I am very impressed. Dr. Pilest can help anyone in the war on this painful and unsightly problem. The pictures turned out great!"
Joyce McBroom