If you have deep undereye hollows, it might look like you're constantly low on sleep – even if you've been good about getting your eight hours. Plus, undereye hollows often look dark, which ages you well beyond your actual years. And while more sleep can help their appearance, it doesn't exactly get to the root of the problem.
That's why, if you're self-conscious about the appearance of your undereye hollows – you might be ready for Restylane injections.
Restylane for Undereye Hollows
Deep undereye hollows – particularly those that appear purple in color – are usually caused by volume loss, not necessarily lack of sleep. In order to correct these hollows, you'll need to replace that lost volume. That's precisely where Restylane comes into play.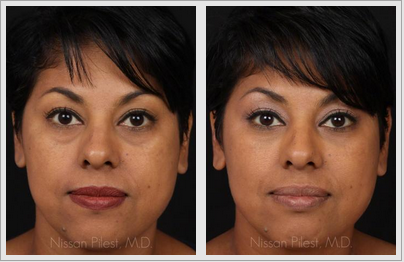 See More Before & Afters
Restylane is an FDA-approved anti-aging injection that uses the power of hyaluronic acid to counteract the appearance of volume loss, particularly in facial regions like the undereye area. The hyaluronic acid gel provides immediate lift at the injection site, which helps fill in the undereye hollow for almost instantaneous relief. The results are long-lasting, meaning you won't have to go for another Restylane appointment until six to nine months after your first one.
Restylane for undereye hollows is a surprisingly fast yet effective solution for patients who want to look younger and more refreshed. If people constantly comment on your tired appearance or you feel like undereye circles are making you look older than you actually are, it might be time for Restylane.