Prepping for Summer
You know it's coming. Glorious Summer is on her way with longer days, swimming pools, the beach, the golf course and the unavoidable sun damage.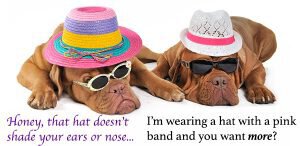 Here're some quick reminders of staying safer in the sun while still enjoying the California sunshine.
Hat it up. There are all kinds of styles for everyone. Pick a hat that shades your face and especially your ears and nose, two of the most common areas for skin cancer.
Sunscreen lip balm (see the EWG list) will help in the fight against skin cancer on the lips – another area that's at high risk.
Use sunscreen per directions on the bottle. Lotion is preferred – it's easy to miss areas with sprays.
Remember reflected rays at the beach or pool; be sure to apply product to the undersides of arms and your neck.
Thin hair or bald spots? Absolutely use a hat to protect your scalp.
Backs of hands are subject to sun damage when outside and even when inside a car driving.
If you skip sunscreen, expect skin damage that will eventually show up. No one's immune.
If the damage is already done
Already suffering from sun damage you picked up over past summers? It may be tempting to "leave it alone" but you'll do better if you clean up sun damage as much as possible on an ongoing basis. Those errant DNA instructions can build on each other.  And did you know you can get additional sun damage in the dark?
See this LA Times article and video. This video refers to "evening after" sunscreen but there is no developed product to that effect as yet. Our best advice is to use common sense in the sun and allow yourself those extra few minutes needed to apply sunscreen. We never hear anyone undergoing a skin cancer biopsy say, "I wish I'd not used sunscreen."
Sun Damage treatment choices;
Fraxel DUAL helps lift pigment AND is FDA-approved to help alleviate actinic keratosis.
Cosmelan peel is a long standing procedure for pigmentation lift and blend.
Clear + Brilliant is a gentle laser (our "baby" Fraxel) for smoother skin with better tone.
Clear + Brilliant Permea is specific for reducing pigment.
Lumixyl with SilkPeel and / or Microneedling takes advantage of skin that's conditioned for product absorption.