NutriCosmetics – Treating the Skin from the Inside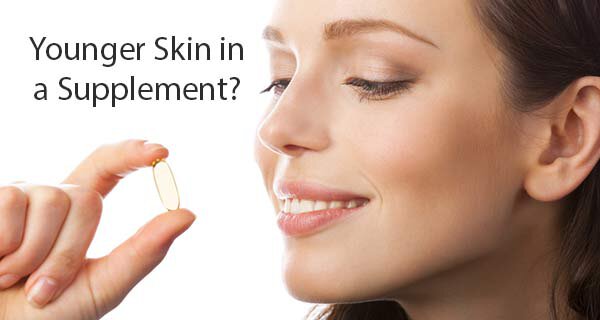 Collagen peptides taken in a supplement have shown to dramatically reduce depth of wrinkles around the eyes – plus cause an increase in collagen and elastin. (Study through Department of Dermatology, University of Kiel, Kiel, Germany)
People who have high intake of Vitamin C and linolenic acid experience less skin thinning.
Topical skin care manufacturers increasingly produce their own formulas for skin-assisting supplements. Boosting health inside eventually shows on the outside via your skin.
Combination of beta carotene, lycopene, vitamins C and E, selenium and proantho­cyanidins was shown to provide some protection against sunburn and damaging enzymes that break down collagen.
Newer supplements can help with thinning hair (think Nutrafol). Biotin is an inexpensive supplement that's the tried and true hair and nail strengthener.
Although the FDA doesn't oversee supplements, practical use shows that many of them are indeed useful for many people who want to keep more youthful-looking skin longer.
Diet is "home grown" supplement and probably the most important. Example: Flaxseeds are particularly rich in alpha lineolic acid that helps skin protect itself by increasing natural oils, keeping skin soft and preventing it from drying out.
We've mentioned cold water fish before for skin – salmon is easy to find and easy to prepare.
See more at: Skin Inc – Diet Supplements May Lead to younger Looking Skin