Melanoma Dangers for Early Indoor Tanners
People who first use a tanning bed before age 35 increase their risk for melanoma by 75 %.
That's a pretty sobering piece of information and one that should cause any young person to rethink indoor tanning.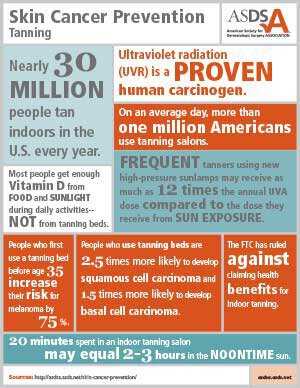 ASDSA Tanning Infographic
We all love the outdoors and in Southern California we have abundant sunshine and endless opportunities to have fun in the sun. Protection from ultraviolet lights is the one mandate you hear all the time. And fortunately, more people are getting smarter about using sunscreen.
For years, indoor tanning was seen as a quick way to get that bronze glow that seemingly goes along with how we've always perceived youthfulness.
But what might look good when you're 25 can look pretty bad when you're 50 – and especially bad when cancer surgery has left gaping divots on ears or a nose or cheeks – or scars on a forehead.
Skin cancer's deadliest form, melanoma, often presents no warning. An abrupt appearance of new moles, moles that change shape, enlarge, change color…those are silent warnings that can easily be overlooked. Melanoma photos and overview on Skinsight.com.
A yearly skin cancer check and knowing your own skin landscape is a "must".
Avoiding lifestyle habits that are known to be harmful can literally save your life.
Educate yourself and urge your friends and family members to do the same. About Skin Cancer