Introducing a New Alternative to the Brazilian Butt Lift
If you haven't already heard, the Brazilian butt lift is the latest procedure taking the cosmetic world by storm. The Brazilian butt lift involves harvesting a patient's own fat and injecting it into the buttocks, thus providing added volume and shape without the need for silicone butt implants.
While the Brazilian butt lift might seem more simplistic, the truth is that the procedure does involve several steps, one of which involves minor surgery (harvesting the body fat). With that in mind, is there a non-surgical alternative to a Brazilian butt lift?
It turns out there is – and it's available at Total Dermatology in Irvine, CA!
Board certified dermatologist Dr. Nissan Pilest uses Sculptra – an FDA-approved dermal filler – to boost the volume and shape of the buttocks without requiring surgery. Sculptra can even be used to boost collagen production, leading to a smoother and younger-looking backside. As an added bonus, increased collagen production can reduce the appearance of cellulite. The procedure itself is incredibly fast, especially when compared to the Brazilian butt lift.
Best of all, there's no need for downtime or recovery, as there's no surgery. That means you can get back to your normal routine faster – and enjoy your newfound curves sooner!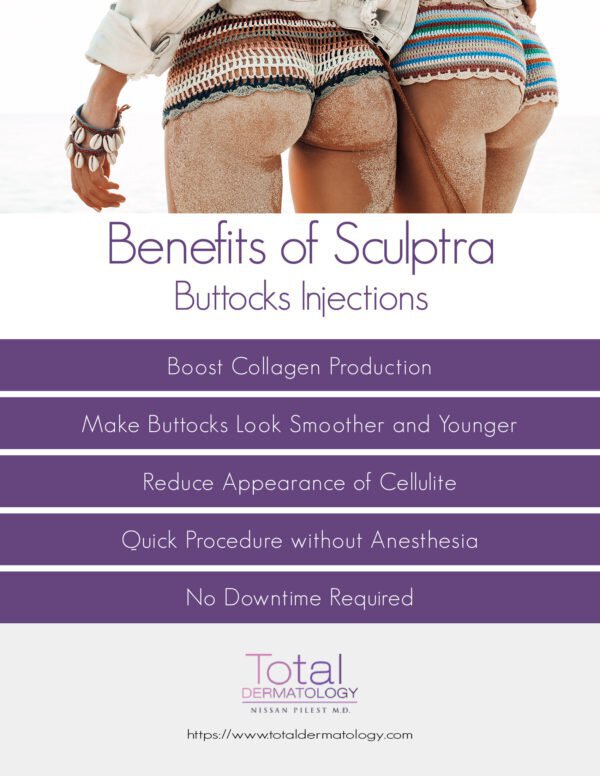 Wondering if you're a good candidate for this new alternative to the Brazilian butt lift? The best candidates are individuals who want a more shapely backside without undergoing surgery. Some candidates may not have enough fat to qualify for a Brazilian butt lift, but they may be good candidates for this procedure. Ideal candidates will be in good health and not smoke; if you are a smoker, it's recommended that you quit for at least two weeks before undergoing this procedure.
Want to learn more about this alternative to the Brazilian butt lift? Schedule your consultation with board-certified dermatologist Dr. Nissan Pilest at Total Dermatology in Irvine, CA today. (949) 727-3800