How to Stop Hair Loss
Are you struggling with a receding hairline or hair thinning and wondering how to stop hair loss? At Total Dermatology in Irvine, CA, we use PRP therapy along with ACell therapy and Nutrafol Supplements to stimulate and reactivate the hair follicles and stop hair loss in its tracks.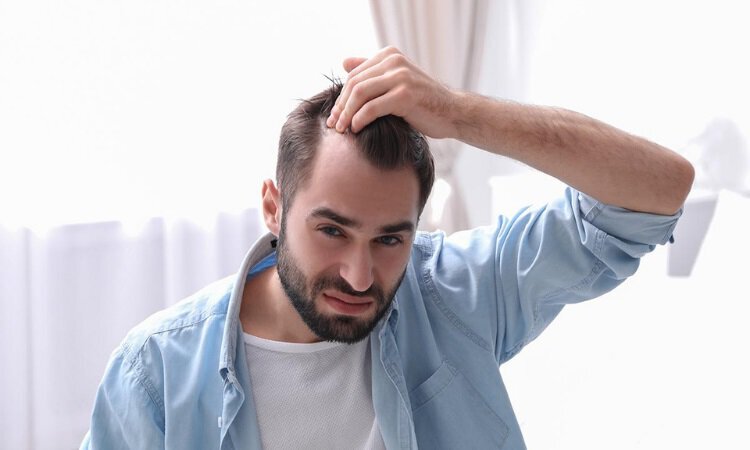 *Individuals Results May Vary.
Hair Rejuvenation Overview
Hair rejuvenation treatments stimulate hair growth in follicles that can still produce hair. They are particularly effective for men wanting to increase hair thickness and hair density without surgery. Although many men suffer from hair loss, women also experience excessive hair thinning.
Hair rejuvenation treatments can produce significant improvement in hair growth for the right candidate.
PRP Hair Rejuvenation
PRP (platelet-rich plasma) has traditionally been used to treat muscle, ligament, and joint injuries. However, the regenerative benefits of PRP are also now used in cosmetic procedures like hair rejuvenation.
PRP hair rejuvenation therapy uses platelets in your blood to stimulate hair growth. Platelets are nutrient-rich components with cell regenerative qualities. PRP can successfully restore hair with natural-looking results.
How it Works
To create PRP, we will first take a small sample of your blood, usually from your arm. Your blood is placed in a centrifuge and spun at high speed to isolate the PRP serum. The PRP serum is then injected into the areas of the scalp where thinning has occurred, to stimulate hair growth.
A course of PRP treatments is needed to achieve the best results.
ACell Hair Rejuvenation
ACell is a cell-regeneration technology made up of proteins that support new tissue growth.  It harnesses the body's natural healing powers and regenerates tissue. When ACell is applied to the scalp, it activates the stem cells in the hair follicles and leads to new hair growth.
Nutrafol Supplements
Nutrafol supplements contain nutraceutical ingredients that are clinically proven to reduce hair loss and increase hair growth and thickness.
When Can I Expect to See Results?
You should see some improvement in the thickness and fullness of your hair about 3-6 months after hair rejuvenation treatment.
Am I a Candidate for Hair Rejuvenation?
Most people experiencing hair loss are good candidates for hair rejuvenation. During your consultation, Dr. Pilest will perform a hair loss evaluation to determine if hair rejuvenation would be right for you.
Are you tired of dealing with hair loss? PRP therapy are effective non-surgical treatments that can stop hair loss and help regrow hair.
"I had the hair removal done on the front and back of my neck due to irritation of shaving on a daily basis."
RC, Happy Patient
Take the Next Step
Ready to experience hair restoration? Schedule your consultation with board-certified dermatologist Dr. Nissan Pilest at Total Dermatology in Irvine, CA today by calling (949) 727-3800.