How to Prepare for Laser Hair Removal
Did you just recently make the decision to get laser hair removal? 
If so, congrats! Laser hair removal can be an exciting and confidence-boosting treatment, as it can get rid of unwanted body hair that may annoy or bother you.
But if you want to make the most of your laser hair removal treatments, it's important to prepare for each laser hair removal session with the following steps: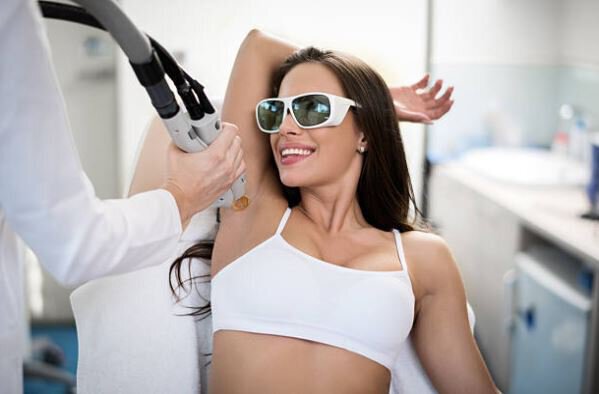 *Individuals Results May Vary.
5 Steps to Prepare for Laser Hair Removal
1. Shower but don't put on lotion.
Before your laser hair removal session, make sure you're freshly clean and showered. However, avoid putting on any lotions, oils, deodorant, or anything else that can be applied to the skin's surface. These topical treatments can interfere with your laser hair removal session.
2. Shave your legs a day before your treatment.
Your body area should be shaved before treatment, but take note – you should aim to do this at least 24 hours before your laser hair removal session . Any sooner, and your skin could be irritated during the session. Additionally, do not pluck or wax the area before treatment. It is also important to refrain from waxing or tweezing your treatment area prior to your appointment. 
3. Protect your skin from the sun.
Whether before or after your laser hair removal treatment, make sure you're protecting the area with sunscreen with an SPF of at least 30. UV rays can irritate treated skin, and even lead to hyperpigmentation, premature wrinkles, and more.
4. Stop applying certain topical products.
Serums, creams, and other topical treatments that contain ingredients that cause skin sensitivity should not be applied to the treated area before your laser hair removal treatment (or after). These ingredients include retinol, salicylic acid, hydroxy acids, glycolic acids, and more.
5. Follow your laser technician's instructions.
The above steps can help you understand what to expect when preparing for laser hair removal, but ultimately, you should follow the advice and instructions of your laser technician. He or she will provide you with explicit steps on how to best prepare for your laser hair removal sessions so you can make the most of your results.
"I had the hair removal done on the front and back of my neck due to irritation of shaving on a daily basis."
RC, Happy Patient
Take the Next Step
Want to learn more about laser hair removal, including how you can prepare for each treatment?
Schedule your consultation with board-certified dermatologist Dr. Nissan Pilest at Total Dermatology in Irvine, CA today by calling (949) 727-3800.