Whether you've just entered your golden years or are in the midst of a quarter-century crisis, you know the kind of complexion you want: flawless skin that absolutely glows. As it turns out, your age has a lot to do with the type of skincare products and treatments you should pick. After all, you wouldn't use the same creams and serums in your 50s that you used as a teenager, would you?
The same rule can apply to picking the right laser resurfacing treatment. Generally speaking, this skincare procedure is best for procuring that glowing complexion you've been after. However, the type of laser skin resurfacing treatment you should use will depend on your age, and the type of problems your skin might be facing.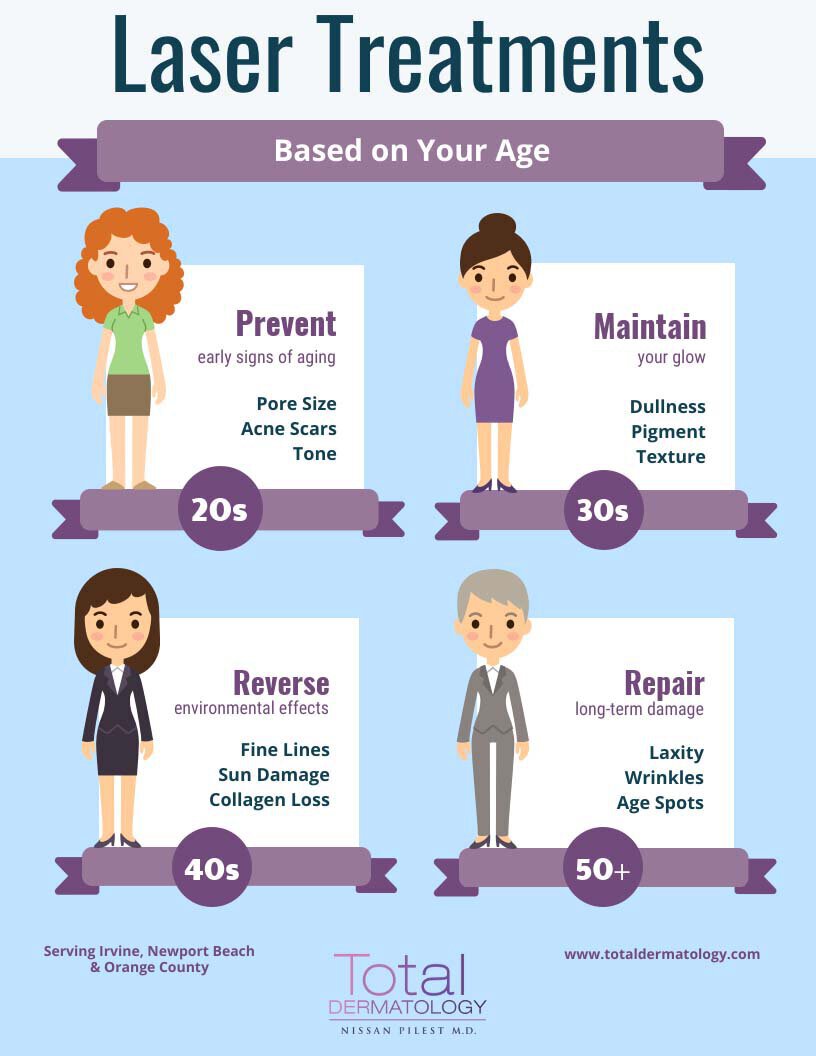 Here's a quick rundown of the laser treatments you should opt for based on your age:
If you're in your 20s: You'll want to go for gentle laser resurfacing treatments, since you probably don't have the same kind of skin damage that someone in their 50s or 60s might have. Clear + Brilliant laser resurfacing is a gentle option that reveals rejuvenated skin; the eMatrix laser resurfacing system is a bit stronger and a good choice for skin with acne scars and rough texture.
If you're in your 30s: At this point, you might start to see some damage appear on your skin that's accumulated from your teens and 20s. For minor skin issues, the eMatrix laser resurfacing system works well. EndyMed Intensif and Fraxel Dual laser systems are ideal for patients who are starting to show sun damage (brown spots, uneven skin tone, hyperpigmentation, etc).
If you're in your 40s: Your skin might be showing signs of aging, which can include wrinkles, fine lines, hyperpigmentation, and rough texture. Patients with minor skin issues will benefit from eMatrix and EndyMed Intensif treatments, while those with more damage can see better results from Fraxel Dual and Fraxel CO2 skin resurfacing procedures.
If you're in your 50s-60s: At this point, you want your laser skin resurfacing treatment to remove the topmost dermis layers, as that's the best way to reveal glowing skin. For these reasons, we suggest using one of the following laser resurfacing systems: EndyMed Intensif, Fraxel Dual, and Fraxel CO2.
Watch Now
Want to learn which laser resurfacing treatment can help you accomplish your skin goals based on your age? Schedule a skincare consultation with board-certified dermatologist Dr. Nissan Pilest at Total Dermatology in Irvine, CA today!
Total Dermatology serves the greater Orange County area, including Newport Beach.