Fillers – Getting the Biggest Bang for Your Buck
Fillers are an increasingly large part of the cosmetic scene. From dainty Belotero to robust Radiesse, the choices add up, leaving one to wonder "What goes where and why?" And "How can I get the most benefit for my investment?"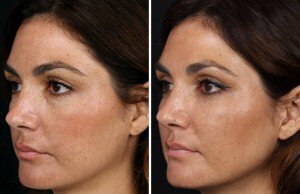 Fillers used under the eye and in the mid-face
Fillers: Where and Why?
Not all fillers are created equal and not all fillers are equally efficient in all areas of the face.  Dermal fillers are costly when you look at the amount that comes in a standard syringe (usually about 1/5 of a teaspoon).
You can waste a lot of money by placing certain fillers where they either won't do much good or will break down too quickly in a highly mobile area.
Since the midface and eye area capture the most attention when you're younger, most often those are the areas you'll want to start with. We'll go over those areas and which fillers are used – and why.
Temple: This is an area of the face that was overlooked for years! Then when cosmetic physicians began to realize the importance of the "five eyes across" calculation, the temples became a focus. (Five eyes across is the ideal width when people chose "beauty".) Most often used injectable in this area is Sculptra which creates a collagen response. Sculptra effects are often evident 2 to 3 years after a full correction. When someone wants an instant correction,  Voluma offers a long lasting gel filler option in the 2 year range.
Eye Area: Hollowing under the eye will "age" anyone and make you appear tired. Dr. Pilest will use Restylane exclusively in this area because it does not create a blue cast from light reflection – this blue cast is called the Tyndall effect. Depending on your metabolism, Restylane can last 6 – 12 months under the eyes and often longer. Belotero is a light-density filler and used for fine lines around the eye. Belotero is generally good for around 6 months, but if you laugh or squint a lot, the action can break the filler down a little more quickly.
Midface: The cheekbone and cheek area tend to flatten and hollow out with age. Because the midface is very mobile, a more robust filler will last longer. New Voluma is a 24-month hyaluronic gel specifically developed for this area. Radiesse is also used here because of its longevity. Sculptra provides a gradual volume restoration over time and has the most "global" application in this part of the face.
Lower Face: As you move down the face, options increase. Restylane, Perlane, Juvederm and Radiesse can work in the lower face with no concern of lumping. Voluma is being tried for the jawline to counteract the visual impact of jowl formation.
When a filler discount is not a discount
The takeaway here is to not base filler decisions solely on a price point or discount.   A very soft filler used for augmenting cheekbones will spread and not provide the height or accentuation that you get with Voluma or Radiesse.  Plus you'd need more of the soft filler to get the same effect that lasted a much shorter time.
Other considerations:  Juvederm is a fantastic filler and can be used in many areas but not under the eyes because it tends to reflect with a bluish tint that shows through the skin.  And Sculptra is not a good product to use near the corners of the mouth because of the potential of lump formations. ONLY hyaluronic gels should be used in the lip body. Anything else will potentially lead to lumps – and problems.
You'll get your best and most long lasting outcomes when fillers and injectables are chosen correctly for the area and the level of the need.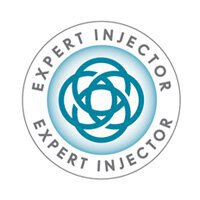 Dr. Nissan Pilest is a member of the distinguished Expert Injector collaboration and holds the Circle of Excellence in Soft Tissue Fillers through the American Society of Dermatologic Surgeons. Dr. Pilest performs all injections for dermal fillers and neuromodulators at Total Dermatology. About Dr. Pilest