What to Expect From Microneedling for Acne Scars
The days of acne breakouts are done – but that doesn't mean you're feeling confident about your skin. For many people, acne scars can be just as frustrating as acne itself. Acne scars can range in color and size, with many taking the shape of pockmarks and looking as red as an actual pimple. Sure, the breakouts are gone – but how can you get the kind of skin that makes you ready to bare your face?
The answer might be found in microneedling. This non-surgical solution uses your body's own collagen production to increase cellular turnover, thus speeding up the scar healing process. With a few microneedling sessions, patients can see younger, smoother-looking skin, as well as a reduction in acne scarring, fine lines, and even hyperpigmentation.
Watch Now
Here's how it works: A microneedling device uses fine-tip needles to quickly puncture the surface of the facial skin. Doing so creates micro-wounds, which triggers the body's healing processes. When this occurs, collagen levels are boosted, resulting in younger-looking skin rising to the surface faster.
Don't worry, the procedure doesn't hurt; in fact, microneedling feels like sandpaper being brushed across the skin. But if you're worried about discomfort, your skin can be treated with a numbing cream beforehand. Immediately after the procedure, you may notice that your skin feels sensitive. That's why it's important to wear sunscreen after your procedure so you can protect your new skin.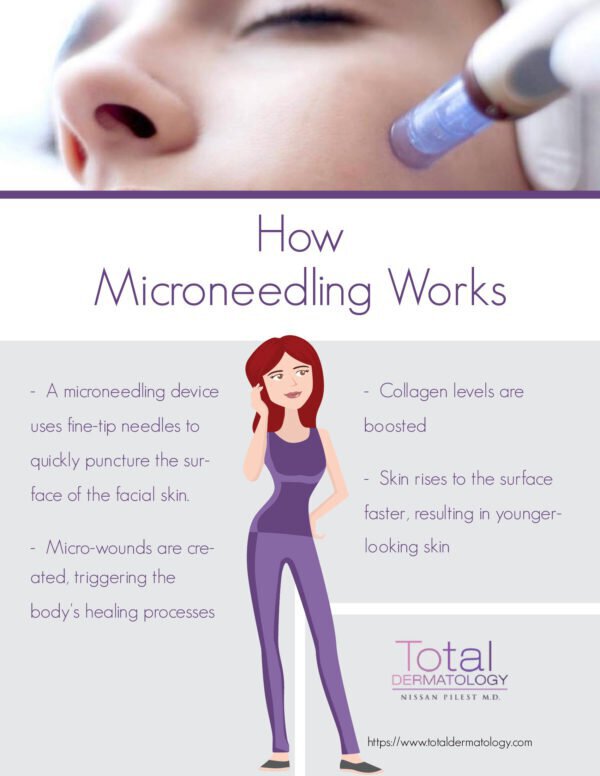 You should expect to start seeing results from your microneedling treatment about four weeks after your session. You may need more than one treatment in order to see your ideal results. Results can last anywhere from six months to one year, at which point, you should see significant reduction in your acne scars.
Want to learn more about how microneedling can help your acne scars? Schedule your consultation with board-certified dermatologist Dr. Nissan Pilest at Total Dermatology in Irvine, CA today. (949) 727-3800