Enlarged Pores – Treatment Options
Why are my pores so big?
Typically, large pore size is related to overactive sebaceous gland activity, so those with oily skin or acne tend to experience more visible pores. When these oily skin pores become clogged with sebum, the pore wall becomes stretched.
Age and "tired" skin function can also contribute to enlarged pores, as can sun exposure and skin that is out of balance due to incorrect product use, health issues, medication use or other reasons.
Treatment Selections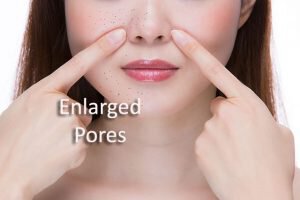 Treatment of enlarged pores most often is dependent upon decreasing oil (sebum) output. We've seen considerable improvements for acne patients with the use of Photodynamic Therapy. Studies of oral isotretinoin (Accutane) and topical tretinoin (similar to Retin-A)  and tazarotene have shown all three medications to be effective in decreasing pore size.
Glycolic acid peels, with or without vitamin C, have been shown to decrease pore size appearance. Salicylic acid peels are also helpful for acne patients because this type acid penetrates plugged pores.
Enter Botox for pore shrinking
New to the scene is the use of Botox, though in this instance it is superficially placed in the upper layers of the skin instead of the muscles that control facial movement. The effect on the tiny muscles that only control the sebaceous gland seems to prevent the pores from "expanding", so we're beginning to see tighter, finer pores in patients who have chosen to be treated with superficial-level placement of Botox. (See Aquagold fine touch for how this works.)
Baby Fraxel refines pores
Non-ablative 1440 nm diode fractional laser – Clear and Brilliant, which we refer to as our Baby Fraxel – is useful in treatment of enlarged facial pores. This treatment is triple-benefit with skin smoothing, collagen encouragement and pore minimizing.  The optional inclusion of Permea improves discoloration.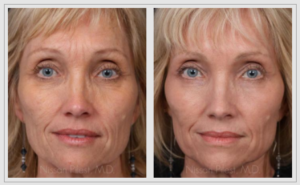 At home treatment tips
Exfoliate regularly. But don't use the highly abrasive ground shell formulas – they'll just tear your skin.
If you use cream-style cleansers and notice clogged pores, switch to a water-based foaming cleanser.
Try a low level salicylic moisturizer (1% is best – 2% could cause mild flaking).
Invest in a Clarisonic cleansing brush. It lasts a long time and does a superior job of cleaning your skin and loosening pore-clogging debris.
Kaolin clay masks can help keep pores clearer. Steer clear of the highly fragranced products.
Pay attention to diet and get adequate fruits, veggies and fiber.
Don't sleep in your makeup.
Fabric softeners used for sheets and pillow cases can leave a film on your skin. If you notice more pores or small bumps on the sides of your cheeks, try skipping fabric softener and see if you notice an improvement.
Don't try extractions without knowing how. You can easily push thickened oil deeper into the pore, making matters worse.
In the future
Trials for botanical agents, specifically plant-derived chlorophyllin copper complex sodium salt (CHLcu) and tetra-hydro-jasmonic acid (LR2412) are in process. Oral anti-androgens, such as combined oral contraceptives, spironolactone, and cyproterone acetate have also shown positive effects. Source: MDlinx.com
If you are concerned with large pores or if you are simply not happy with your skin, we are here to help!  Please call our office at (949) 727-3800 today to schedule a consultation or fill out the form on this page and one of our trusted staff members will reach out to you promptly.