Double Down on Dermal Fillers
Fillers can make remarkable changes – Just take a look at 74 year old Lorraine! You might have guessed her age on the left before her fillers, but who would ever guess her age on the right afterward?
As dermal fillers advance, do so the ways they can be used together. This particular case of the patient above is just one example of utilizing the different properties of two entirely different products to achieve results we'd not dreamed of 15 years ago.
The Dual Layer Strategy
Radiesse is a firm support-level filler with outstanding volumizing properties. Used to lift and fill deep nasolabial folds and pre jowl areas, Radiesse has superior staying power and provides equally superior support for top-layer fillers such as Belotero.
While Radiesse can't relieve tiny lines and wrinkles, the less dense and highly maleable Belotero acts like smooth icing on the cake.
Katherine Age 81
Below is another outstanding outcome with the use of Radiesse and Belotero for 81-year-old Katherine.
(Images courtesy Merz Aesthetic)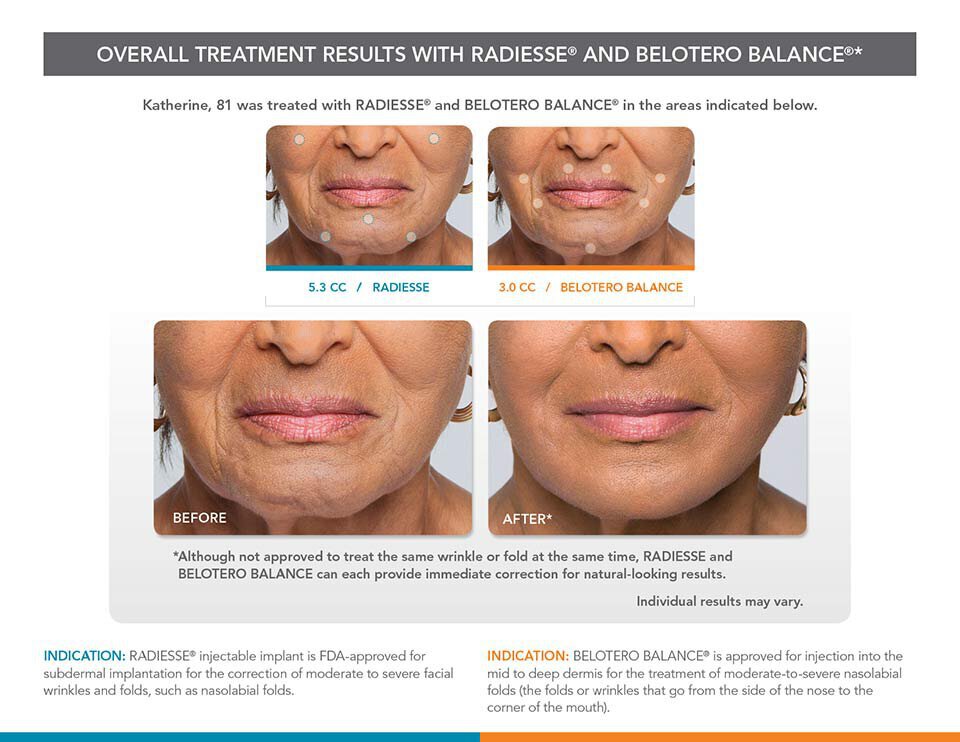 Both Radiesse and Belotero, as well as all the other hyaluronic gels, provide instant, gratifying results.
If you are considering dermal filler treatments, call our office at (949) 727-3800 for a consultation with Dr. Pilest. A Board Certified Dermatologist since 1979, Dr. Pilest has been a trainer for fillers for many years and belongs to the prestigious Expert Injectors program.