Conquering Needle Phobia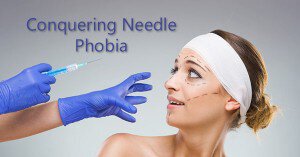 Fear sends signals to the body – the fight or flight syndrome kicks in. You know the feeling. For "needle phobes" other things can happen like blood pressure drop, queasy stomach, light headedness and some people react so strongly, they faint.
For some, the fear comes from long standing memories of childhood inoculations or dental work. If you're needle phobic, you know it, so what do you do to ease that fear?
Tips for Easing the Fear
Mentally prepare. Having control over your own time line helps so schedule ahead
Ask for pre-numbing creams – or if you're over the top, consider a Valium
Stay warm. If you tend to feel the cold, ask for a blanket. Being warm helps you feel assured and safe
Another reason for staying warm is that you won't tense up from feeling chilly
Admit to the fear – just voicing your fears helps ease them
Hum a song, aloud or in your head or count backwards from 100 – it's a great distraction
Ask for cold prep – any icy water-filled balloon will desensitize the area
Close your eyes
Ask for a hand to hold
Don't forget to breathe! Holding your breath sends negative signals to your brain
Whimpering or making hurt sounds actually increases sensitivity levels – expletives are allowed if you need to use them – honest!
Think positive – imagine how great you're going to look when it's all done
Needles Vs Cannula
Most filler injections are completed with a cannula – which has a smooth rounded tip. It requires a "port" which is done with a needle, but the area is numbed first. So getting fillers usually only takes a couple of quick sticks – even for a fairly large area
All fillers come with lidocaine already mixed in, so the numbing inside the tissue happens quickly. Today's needles are ultra sharp – which is good thing! The sharper the needle, the less you feel it.
Botox needles are the same size as an insulin needle – they are super tiny and injections are super fast!
Injector Experience Matters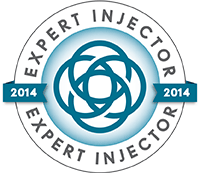 Knowing that your doctor is experienced and qualified makes a difference in your comfort levels, too. Dr. Pilest is an Expert Injector – Only 3% of the country's physicians allowed to inject qualify for this status!