Botox vs. Dermal Fillers: What's the Difference?
These days, you don't have to put up with wrinkles if you don't want to.
That's because there's a wide range of anti-aging injectables out there – like Botox and dermal fillers – both of whichcan help fight the appearance of facial wrinkles and lines. From frown lines and crow's feet to nasolabial folds and more, if there's a wrinkle on your face that you don't want, you only need a single injection to see the results you're looking for.
But what's the difference between Botox and dermal fillers? And how do you know which one is right for you?/p>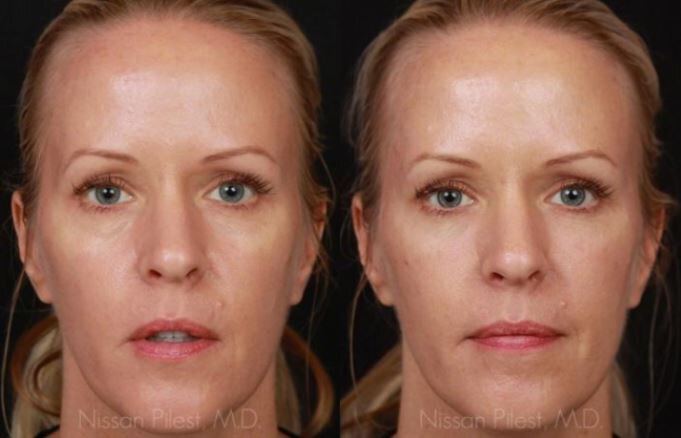 View More Patient Results
*Individuals Results May Vary.
The 3 Main Differences Between Botox and Dermal Fillers
1. Their active ingredients are different.
Botox uses botulinum toxin (a neuroprotein) to interrupt the brain's signals that tell muscles to engage in microexpressions such as squinting, frowning, and more. When these microexpressions are halted, the skin appears smoother and softer, making wrinkles like frown lines and forehead wrinkles less visible.
Most dermal fillers contain hyaluronic acid (HA), a natural compound that binds water moleculesand acts as a plumping agent within sagging dermal tissue. HA gel can create a scaffold underneath the skin, which lifts it up to smooth away mid-facial wrinkles and folds.
2. They treat different facial areas.
Botox is FDA-approved for the treatment of forehead lines, glabellar lines (wrinkles between the eyebrows), and crow's feet. 
Dermal fillers are FDA-approved for a variety of facial regions, including cheeks, nasolabial folds, under-eye areas, and more. Dermal fillers can even be used to add volume to the lips and hands.
4. Results can vary.
Botox results are designed to last between three to four months. Dermal fillers last a bit longer; fillers designed for the mouth and nasolabial folds can last anywhere from six to nine months, while mid-facial fillers tend to last up to eighteen months.
"WOW! I went into my appointment with a negitive attitude. I have all of my cosmetic procedures done in Europe and have very high standards. Even though I came across skeptical, I was treated with patience and respect. I had PRP and Botox and am so impressed with the quality and results. It is so nice to have a doctor that knows what he's doing!"
Thank you!!!!!
DD, Happy Patient
Take the Next Step
Want to learn more about Botox and dermal fillers, including which treatment is right for you? Schedule your consultation with board-certified dermatologist Dr. Nissan Pilest at Total Dermatology in Irvine, CA today by calling (949) 727-3800