Acne Scars Treated Via Micro Needling and PRP
An abstract posted by the National Institute of Healths helps substantiate the effectiveness of micro needling and platelet rich plasma in the treatment of acne scars.
How to best treat acne scars has confounded the medical community for as long as patients have suffered from them. It would be a dream come true if we, as physicians, had a magic bullet that indeed completely smoothed the skin of those who so desperately want to look "normal". We aren't there yet, but newer treatment methods have certainly helped us help those who hope for skin they are not ashamed of.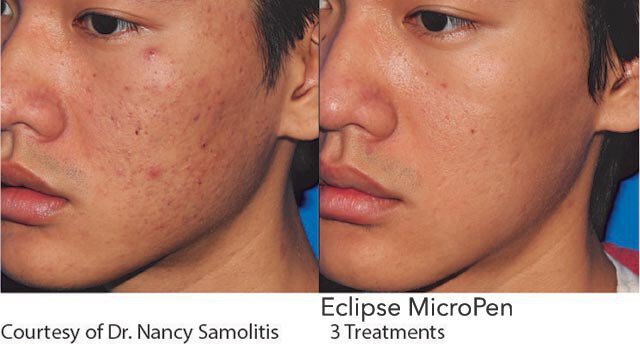 A little history
Acne scars used to be treated with dermabrasion. Much different from microdermabrasion, dermabrasion was practically horrific. With dermabrasion, a rotary steel brush was used to remove skin. The treatment was as unpleasant as your imagination can conjure!
The patient experienced significant pain, difficult recovery, high infection risk, slow healing and limited improvement…all combined with the psychological impact of seeing yourself bloody and scabbed. It was hardly something for the faint hearted.
Lasers took the place of dermabrasion, but full surface lasers created much of the same misery. The advent of micro lasers such as Fraxel and the fractional CO2 lasers offered a much kinder path to smoothing acne scars and are now often embraced as the current "gold standard" treatment of choice.
A heatless more affordable alternative
But lasers are not appropriate for all patients or affordable for all those who want treatment.
The inclusion of micro needling into U.S practices is relatively new. We're a tech-loving society and the simplicity of needles was, to some degree, not given appropriate consideration…UNTIL the development of automated needling. Given that physicians began to see that micro needling actually improved skin through a collagen response, the next logical step was how to improve on those improvements.
PRP – The improvement to the improvements
The introduction of PRP for aesthetic use followed the proven use of PRP for joint injury. Platelets derived from your own blood improved injury recovery in a substantial way. Dermatologic surgeons surmised, correctly, that PRP injected or diffused into the skin would act in a similar way and help improve collagen manufacture – which in turn helps smooth acne scars.
The tolerance factor and the proven effectiveness combined with an increased affordability factor make Microneedling PRP a viable treatment option for many.
News Resources
Wall Street Journal Can Micro-Needling Improve the Appearance of Wrinkles and Acne Scars?
Huffington Post 5 New Ways to Treat New and Old Acne Scars