Hyperhidrosis – Making Summer Miserable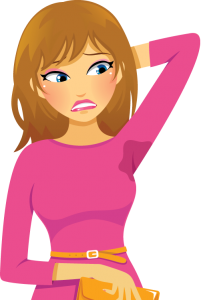 You're probably looking forward to Summer – unless you're a heavy sweat-er. Then your life is pretty miserable. In areas like ours, we have plenty of summer days all year round, making the worry about hot day sweating span all the seasons.
It's Not Your Fault
We recently had a patient come ask, "What am I doing wrong?" Not only was she enduring the embarrassment of hyperhidrosis, she was suffering from the thought that she was causing the problem.
It's not uncommon for people with hyperhidrosis to think that they are in some way "at fault", that they aren't managing their stress well, or they aren't choosing the right antiperspirant, or they aren't wearing the right fabrics.. But that's not the case at all with hyperhidrosis. It's a medical condition that prevents the normal regulation of the sweat glands.
The "Gene" Thing
From Sweathelp.org: It's been shown that primary focal hyperhidrosis may be inherited and many members of the same family may suffer from this condition.
Sweat – A Necessary Evil
We all sweat – it's the body's temperature regulation feature and necessary for survival. But when the sweat glands over-react to exercise or stress, or are just generally overactive, this overproduction of sweat interferes with almost every activity.
Most patients are shocked at how much more "normal" their lives become once the sweating is under control.
Botox for Excessive Sweat – Beyond the "Usual"
Controlling hyperhidrosis can be a challenge. Although better antiperspirants exist today – with higher levels of controversial ingredients, they aren't useful for those who have palm, foot or facial hyperhidrosis. Botox is an FDA-approved medical treatment for hyperhidrosis and can be used under the arms, in the palms and on the soles of the feet.
Read more about hyperhidrosis and find resources and tips for helping you live with this condition.