LIGHTSTIM ACNE THERAPY
With today's technology, there's no reason to walk around with pimples on your face or any other part of your body. Acne can be resolved completely or improved dramatically with available treatments usable by anyone at any age under most any circumstance. LightStim for acne (an acne bacteria-kiling blue light) is one of the functional tools we can use. At Total Dermatology we strive to offer the best LightStim Irvine has to offer.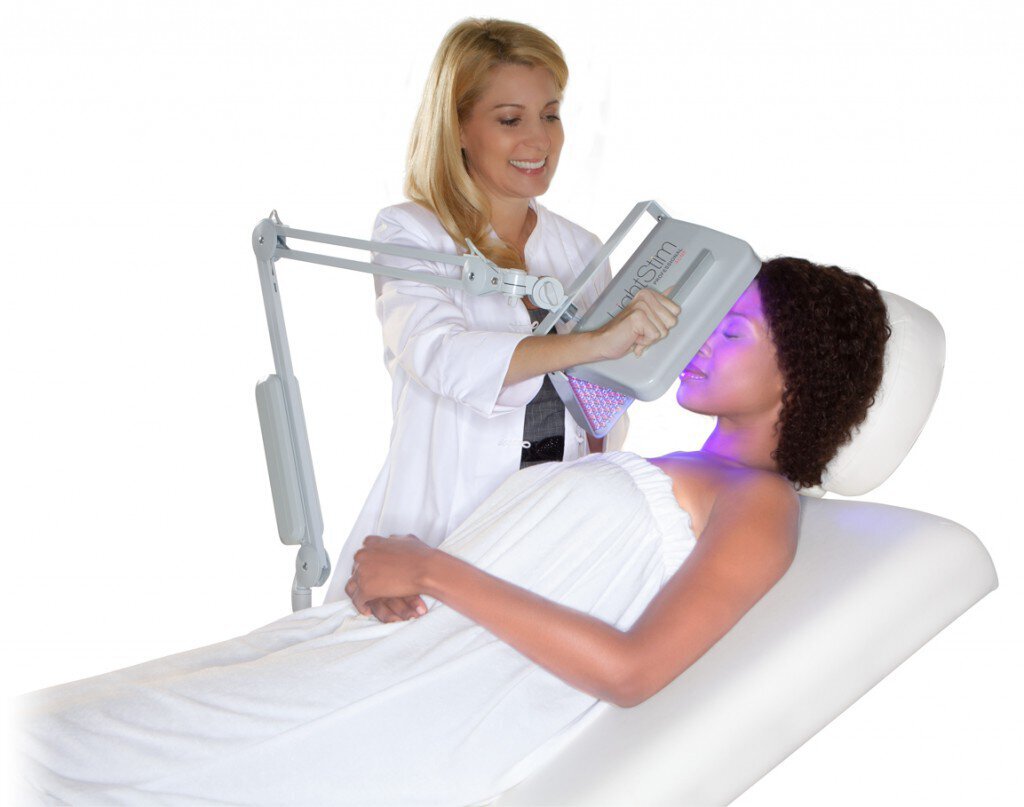 A NON-DRUG PAINLESS TREATMENT WITH LIGHTSTIM
This light-based acne therapy involves a short, completely painless treatment regimen with impressive results and no side effects or downtime.
The acne professional light contains 756 Blue LEDs and 378 Red LEDs to provide complete light spectrum benefits. Dr. Pilest upgraded to LightStim, the only FDA cleared Blue AND Red combination/Multiwave light for Acne, to make sure patients have the best possible clearance and control of acne.
LightStim's blue light treatments kill acne-causing bacteria within the skin. Applied in eight treatments over a four week period, most of our Orange County LightStim patients see a dramatic decrease in the number and severity of acne blemishes and lesions; some report significant improvements after only two or three sessions.
LightStim's red light treatment begins an immediate process of inflammation reduction.
Dual Light Treatments accelerate the reduction of acne pimples and the redness and swelling they cause.
The addition of alternate red light treatments increases the effectiveness of acne light treatments by acting as an immediate anti-inflammatory. At Total Dermatology your light therapy may be preceded by Salipeel to unclog pores. Acne patients are discovering a faster, more visible response to their acne clearing. In investigative studies, Photo Therapeutics noted a mean clearance rate of over 82% at 12 weeks after the final treatment.
Isolaz is the most recent system for non-drug acne clearance. Isolaz works by clearing the pores with a vacuum and obliterating acne bacteria with light.
GOALS OF THE LIGHTSTIM ACNE TREATMENTS
Prevent acne scarring
Reduce the number of painful legions
Limit disease duration
Minimize psychological stress and embarrassment. No blood test or antibiotic is necessary. LightStim is a systemic drug-free treatment with no downtime, no pain, no irritation, no problems with the sun or physical activities, and no side effects.
HOW LIGHTSTIM WORKS
Traditional acne treatments have various side effects. Topical therapies often cause redness, irritation and/or peeling. Topical-only treatment can be effective in the management of mild acne but rarely has the desired results for those suffering from constant and persistent acne.
Oral antibiotic therapies may have even more side effects. Although not to be discounted and frequently helpful in combined treatment, typical oral antibiotics alone simply don't "get the job done". Ongoing antibiotic use in women often results in imbalances that encourage yeast infections and requires self-monitoring of sun exposure.
LightStim is suitable for all body areas, including the large areas of the back and shoulders and the sensitive beard area. It treats mild to moderate inflammatory acne. Severe acne requires more aggressive treatment and many cases will respond well to the newer "non-ablative" lasers. (Non-ablative lasers do not remove or burn skin, but work from within the skin.) See SmoothBeam and Vbeam links below under Related Treatments.
WHAT IS A LIGHTSTIM TREATMENT LIKE?
First, you should arrive with clean skin. Makeup must be removed prior to treatment. You will lie comfortably under a light for a period of minutes with protective goggles over your eyes. During LightStim Orange County patients will experience NO PAIN, no peeling, no irritation, no restriction from sun exposure and no one will even notice you have had a treatment. If you wear makeup, it can be reapplied directly following your treatment. It's really that simple.
Want to keep pimples at bay at home? Ask us about the handheld home version of LightStim for Acne.

WILL I BE BLEMISH-FREE AFTER MY LIGHTSTIM TREATMENTS?
Though the inflammation will be gone for the majority of our Irvine LightStim patients by the end of the treatment series, you may experience redness, where the inflamed blemish was located. This redness will dissipate in a short time. It is important to remember that LightStim treats only inflamed mild to moderate acne blemishes. LightStim is not designed to clear cystic and/or nodular acne or comedones and will provide little or no clearing of these lesions. Our office has a wide range of other effective treatments for more severe or resistant acne.
Acne is not a medically "curable" condition, but it is one that can be controlled and managed. You may require maintenance treatments to keep the clearing at an optimum level. This is in addition to any at-home treatment program you have been advised to use.